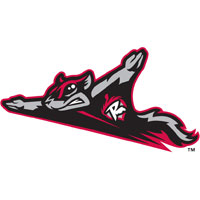 The harrisburg senators (9-20) rolled behind six scoreless innings from A.J. Cole and defeated the Richmond Flying Squirrels (17-13), 5-1, on Tuesday night at Metro Bank Park.  The win leveled the series, and turns Wednesday's finale into the rubber game.
Cole and Richmond lefty Kelvin Marte traded zeroes through the first three innings.  Cole also worked a scoreless fourth and Marte blinked first as Harrisburg plated their first run to take a 1-0 lead.  Brian Jeroloman knocked in the first run with a single through the right-side of the infield.  Ricky Hague, who had reached on a fielder's choice, scored on the play.
The dam broke for Marte in the fifth inning as the Senators grabbed control of the ballgame and chased him from it.  Quincy Latimore started the inning with a single, and Cole bunted him over to second base.  Marte then walked Cutter Dykstra and conceded an RBI single to Caleb Ramsey to make it 2-0.  Jason Martinson followed with a single to knock in Dykstra and Matt Skole ended the night for Marte with an RBI double to the right-field corner.  Right-hander Edwin Quirarte entered and allowed one of the inherited runners to score on a ground out as Harrisburg assumed a 5-0 advantage.
Marte (1-2) was charged with all five of those runs and took the loss over 4 1/3 innings.  He surrendered seven hits, walked three and did not strike out a batter.
Meanwhile, Cole (3-1) continued to cruise.  He allowed seven hits, all singles, but worked six scoreless innings to claim the win.  He walked none and struck out seven.
Left-hander Matt Grace took over for Cole and turned in two uneventful scoreless innings.  Righty Richie Mirowski had some trouble in the ninth inning, conceding the only run of the ballgame to the Squirrels.  However, he recovered to finish the win for Harrisburg.  Myles Schroder knocked in Ryan Lollis with an RBI triple through the right-center field alley for the only tally of the night for Richmond.
The finale of the three-game series is scheduled for 10:30 a.m. on Wednesday morning at Metro Bank Park.  Richmond RHP Clayton Blackburn (2-2, 2.00) will make the start against Harrisburg LHP Matt Purke (0-5, 9.30).  Pregame coverage will begin on Sports Radio 910 and SportsRadio910.com at 10:00 a.m.