Virginia Gov.-elect Terry McAuliffe announced today his nominations of Nancy Rodrigues as Secretary of Administration and Karen Jackson as Secretary of Technology. Both women have long records of service in Virginia state government, as Rodrigues served as the Virginia State Board of Elections Secretary from 2007-2011, appointed by Gov. Tim Kaine, and Jackson currently serves as the Deputy Secretary for Technology, first appointed in 2009 by Gov. Kaine and reappointed in 2010 by Gov. Bob McDonnell.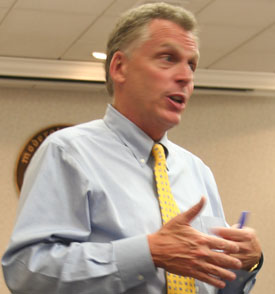 "Nancy and Karen, like my other Cabinet appointments, are leaders who will put partisan battles aside to do what is best for Virginia's businesses and economy," said McAuliffe. "They have served governors both Democratic and Republican, and have dedicated their careers to making Virginia a better place to live, work, and raise a family."
Nancy Rodrigues, Secretary of Administration
Nancy Rodrigues serves as a co-chair of Governor-elect McAuliffe's Common Ground for Virginia transition committee, and previously served as treasurer of the McAuliffe for Governor campaign. Rodrigues served as Virginia State Board of Elections Secretary from 2007 to 2011, following nearly a decade as the founding executive director of DRIVE SMART Virginia.  The statewide non-profit private/public partnership organization's primary goal is reducing traffic fatalities and injuries; they declined significantly during Ms. Rodrigues' tenure and Virginia's safety-belt usage rate reached its then-highest-ever level.
Ms. Rodrigues has received numerous prestigious honors during her career, including the Virginia Hispanic Chamber of Commerce Bridge Builder Award, the Award for Public Service from the National Highway Traffic Safety Administration, and the Gold Quill Award from the International Association of Business Communicator. Fluent in Portuguese and with functional Spanish, Ms. Rodrigues also has specialized experience in Hispanic outreach.  She graduated with honors from Rutgers, the State University of New Jersey, where she received a B.A. in political science.
Karen Jackson, Secretary of Technology
Karen Jackson serves as Deputy Secretary of Technology for the Commonwealth of Virginia, a post which she was appointed to by Governor Tim Kaine in 2009 and reappointed by Governor Bob McDonnell in 2009. In this capacity, she serves as a senior advisor to the McDonnell Administration on technology matters including modeling and simulation, telecommunications, telework, and unmanned aerial systems. In these areas, she is responsible for policy and legislative initiatives as well as developing programs to facilitate innovation, collaborations, technology development and adoption.
Ms. Jackson serves as the Virginia lead for the Mid-Atlantic Aviation Partnership with New Jersey (MAAP). During the Kaine Administration, she served as Deputy Secretary of Technology and director of the Commonwealth's Office of Telework Promotion and Broadband Assistance. Ms. Jackson has been actively engaged in the federal policy initiatives including the development of the National Broadband Plan. She received a 2009 IP3 award from Public Knowledge for her work in information policy and was named to Government Technology's 2010 list of the top 25 Doers, Dreamers, and Drivers. Ms. Jackson serves on a number of Boards including the Virginia Telehealth Network, the Information Technology Advisory Council, the Policy Committee of the National Modeling and Simulation Coalition, and the National Center for Collaboration in Medical Modeling and Simulation. She holds a bachelor's of science in business management from Christopher Newport University and a master's of business administration from The College of William and Mary.