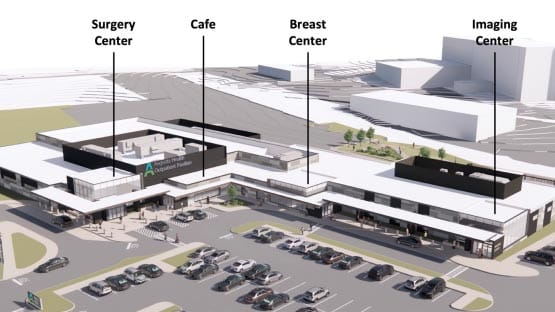 The new Augusta Health Outpatient Pavilion opened earlier this month, and with anything new, there was a minor hiccup.
Anthem Insurance was delayed five days after the opening – leaving some patients frustrated.
Augusta County resident Kathy Nimax was trying to schedule an ultrasound and CT scan and was told she had to go to the main hospital because Anthem insurance wasn't available at the new Outpatient Pavilion.
She was looking forward to using the outpatient center primarily for accessibility reasons.
"I have trouble walking, and it is a hardship for me to park at a distance and get in and out of the main hospital," Nimax said.
She was told twice that she couldn't use her insurance at the new building for the two procedures.
The good news according to Augusta Health is that the situation was resolved earlier this week.
"Anthem was delayed five days after our opening until Jan. 21 in setting up their systems to provide coverage in the Imaging Center," said Kristen Printy, an Engagement Specialist at Augusta Health. "Anthem insurance is accepted in all the centers and in the main hospital.
"We regret the delay," said Printy. "It's important to note that depending upon a patient's particular needs for their procedure, the main hospital may be recommended as the more appropriate setting for their care."
The Outpatient Pavilion opened to the public on Monday, Jan. 16.
The Outpatient Pavilion is designed to improve the region's access to outpatient care and to meet the growing demand for outpatient services both locally and nationally. The 60,000-square-foot facility is not only dedicated to outpatient care, but it's also built upon the continuum of care, bringing together Imaging, surgery and breast care into one location.
"Over the years, as the need for surgical and diagnostic care at Augusta Health grew, it became apparent that dedicated outpatient facilities would be necessary for Augusta Health's community-based delivery model of care, said Mary N. Mannix, FACHE, Augusta Health President and CEO. "And so, when the Board of Directors considered the need and undertaking, they unanimously committed the funds for this community asset."
The three outpatient centers feature state-of-the-art, updated technology for enhanced, safe care and more accurate diagnostics.
Questions regarding the Augusta Health Outpatient Pavilion may be directed to (833) AHC-HLTH or (833) 242-4584.
For more information on the Outpatient Pavilion, visit www.augustahealth.com/service/outpatient-pavilion.