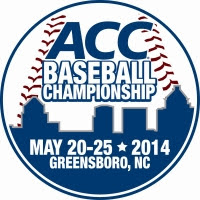 Georgia Tech found NewBridge Bank Park to its liking when it last visited here for the 2012 ACC Baseball Championship.
So far, so good for 2014 as well.
The ninth-seeded Yellow Jackets put up five runs in the top of the second inning, and that proved enough for a 5-3 win over eighth-seeded Wake Forest in Tuesday's opening-round game.
In addition to picking up a win to enhance its NCAA postseason resume, Georgia Tech (33-24) earned a spot in the pool play section of the ACC Championship and will face top-seeded Miami in Wednesday's 3 p.m. game. Wake Forest (30-26) was eliminated from the tournament with Tuesday's loss.
"Like most of the games in the ACC this year that was a close one, hotly contested," said Georgia Tech coach Danny Hall, whose team won the ACC Championship as the No. 8 seed here two years ago. "There was never a comfortable feeling in our dugout, and it seemed like they had guys on when (their key hitters) came to the plate, so you were never comfortable with any kind of lead."
Sam Clay (4-1), who worked three innings of four-hit, scoreless relief, picked up the win on the mound. Reliever Dusty Isaacs pitched 1 1/3 innings of perfect relief, including two strikeouts, to notch his sixth save.
Jack Fischer (4-7) started and took the loss for the Demon Deacons. Fischer yielded 11 hits and five earned runs.