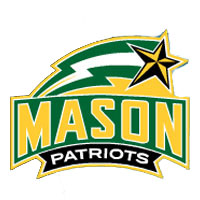 George Mason held a nine point lead in the first half, but Towson used 20 second chance points in the contest to walk away with a 75-54 win on Wednesday evening in SECU Arena. Marko Gujanicic led Mason with 12 points while teammate Shevon Thompson pulled down a team-best 12 rebounds as the Patriots out-rebounded the Tigers 42-37 in the contest.
GAME NOTES
-The teams traded the lead back-and-forth in the early going until Mason grabbed a seven point lead, 13-6, with 13:37 left in the first, forcing Towson to burn a timeout.
-Jalen Jenkins capped the 15-2 Mason run with a jumper at the 11:47 mark to give Mason a 17-8 advantage.
-The Tigers utilized four consecutive turnovers from the Patriots to score five unanswered points within two minutes, bringing the score to 17-13 with 8:12 on the clock.
-Otis Livingston II and Jenkins returned an eight-point advantage to the Patriots before Towson finished the half with a 17-7 run to take a 30-28 lead into the halftime break. Within the run, the score was tied three times.
-A 10-0 spurt from the Tigers to start the second half pushed the home team in front 40-28 with just over two minutes expired into the period.
-On a goaltending call, Towson notched a 45-33 lead with 13:21 on the clock before Mason rebounded using a 7-0 spurt over a minute and half, quickly slicing the score to 45-40 following an old-fashioned three-point play from Gujanicic with11:58 to play.
-Within two minutes, Towson had regained a double-digit lead and would hold a double-digit lead the remainder of the game.
-The win snapped Mason's 10-game win streak in Towson and marked the first home win for the Tigers over the Patriots since January 6, 1992.
STAT BREAKDOWN
-Mason shot 33.3 percent from the floor to Towson's 44.4 percent effort. Two Patriots reached double-figures, led by Gujanicic with 12 points and Livingston with 10.
-The Patriots won the battle on the glass, 42-37, paced by Shevon Thompson's 12 boards.
-Towson led at the halftime break after converting nine offensive rebounds into 16 second chance points. Towson finished with 12 offensive rebounds and 20 second chance points.
-The Tigers were 7-for-17 from three-point range for a 41.2 percent shooting efficiency and were 12-of-17 from the free throw line.
-Mason hit a trio of triples and was 11-for-16 at the charity stripe.
-Four Tigers scored in double-figures, led by 20 points from Mike Morsell. William Adala Toto followed with 17 points.
-Towson also utilized 13 Mason turnovers, converting the miscues into 16 points.
NEXT ON THE COURT
-Mason returns to EagleBank Arena for a two-game homestand beginning on Saturday at 6 p.m. welcoming Penn.