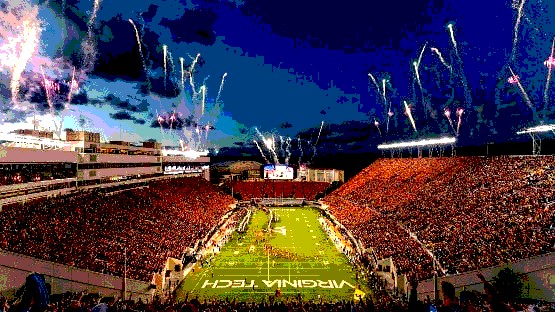 ODU, which opens at Virginia Tech on Saturday, has, you might have heard, won two of the last four games in the series.
Not that that should mean anything, to hear ODU coach Ricky Rahne tell it.
"I've been part of some other games where it's like, Hey, you guys are, you know, 3-1 all-time against them. And then you look at the games, and it's like, the last game was played in 1948. And like, I don't know if our players are real locked into what was happening in World War II and things like that," Rahne said.
Good answer.
But the fact remains, ODU is 2-2 against Tech dating back to 2019, including a 20-17 shocker in Norfolk to kick off the 2022 season, and the Brent Pry era at Virginia Tech.
Familiar foes
Rahne and Pry worked together on the staff of James Franklin at Penn State. Rahne was the QB coach from 2014-2016, and was the offensive coordinator for his final two years, from 2018 and 2019.
Pry, who was the defensive coordinator at Penn State from 2016-2021, also worked alongside Rahne when the two were on Franklin's staff at Vanderbilt.
The two don't talk much football because of the fact that they're scheduled to play each other.
"That's one of the things that I dislike the most that we play them. A resource for both of us is kind of eliminated, because I think we're both afraid of saying something that might harm us in the game," Rahne said.
The flip side for Rahne: "Getting an opportunity to play a team like Virginia Tech every year is awesome."
"Getting an opportunity to play in this stadium and open the season is a great opportunity for our young men to showcase their abilities. So, the tradeoffs are worth it."
Game breakdown
Virginia Tech is a 16-point favorite going into this one (Saturday, Sept. 2, 8 p.m., ACCN).
The expectations for both programs heading into the season aren't where either would like. Tech was picked 11th in the 14-team ACC by the league's media reps, and ODU was slated by the media who cover the Sun Belt to finish seventh in that conference's East Division.
The ESPN Football Power Index projects a 5-7 finish for the Hokies in 2023.
The FPI foresees a 4-8 finish for ODU this fall.
The Monarchs, after opening 2022 with the win over the Hokies, played UVA to the wire in a 16-14 loss in Scott Stadium in Week 3, then blew out Coastal Carolina, 49-21, to even their record at 3-3, before losing their final six games to finish a disappointing 3-9.
This precipitated a massive roster overhaul that saw Rahne welcome 58 newcomers to the roster for 2023, including 27 transfers.
The sales pitch around the program is that nobody really knows how good ODU will be because of all the new faces on the sidelines, including Grant Wilson, a transfer from Fordham who will make his first career college start on Saturday in Lane Stadium.
Let's repeat that, with emphasis: a kid who couldn't get to the top of the depth chart at Fordham is QB1 and will get his first career start on a Saturday night in Blacksburg.
Rahne was asked about how he thinks the 6'3" junior will respond to playing in what promises to be a wild environment.
"As long as those people don't enter the field, we shouldn't be intimidated. There's still eleven guys on the field. Still 53 and a third. Should have fun with it. Right? I mean, this is why you play college football, is for these environments," Rahne said. "Do I understand that they can get really loud and be a positive for their team? Of course, I do. I'm not naive. I mean, they're one of the great fan bases in college football. You got to focus on what you can control, and what he can control is what's happening between our 11 and their 11. I think that's the thing that he's got to be able to understand, and I think he's mature enough to handle that."
Lane Stadium on a Saturday night
To be fair to Wilson, this will be Rahne's first trip to Blacksburg for a football game, so Lane on a Saturday night, "Enter Sandman" and the rest, will be a new experience for him, too.
"We did a great job of making it really loud at practice. We've played a certain Metallica song 427 times already. I think it'll play another 427. It used to be one of my favorite songs, and I've heard it a lot now," Rahne said. "Yeah. I mean, we'll play crowd noise, we'll play their band, we'll do those sorts of things to try to just, it's not necessarily to mimic it. I don't think you can ever mimic it.
"I mean, I was blessed enough to be a coach at Beaver Stadium for six seasons, and I don't know what people were trying to do to mimic that, but I can promise you that it didn't work," Rahne said.
"It's one of those things we got to be able to overcome. There's going to be times when they're going to be loud and may cause a pre-snap penalty at times. It's only a problem if we let it cause two, you know, let it cause three, let it snowball. You got to put your foot down and understand, OK, I gotta concentrate a little bit more and go from there."