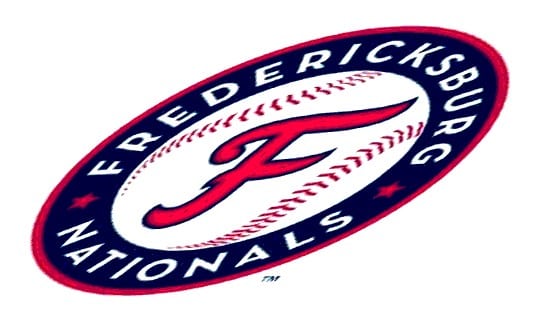 The Fredericksburg Nationals jumped ahead Tuesday night with a seven-run first inning, and never looked back in a 13-5 victory over the Augusta Greenjackets.
A single and a pair of walks in the bottom of the first loaded the bases for the Nats, the Low-A affiliate of the Washington Nationals, when Roismar Quintana lifted a sacrifice fly to center to plate Elijah Nunez.
With two outs now, Max Romero Jr. worked another walk to load the bases once again. Leandro Emiliani then ripped a two-strike double to the right field corner to drive in both Dylan Crews and YoYo Morales, before two more walks forced in another run.
Augusta, the Low-A affiliate of the Atlanta Braves, went to a new arm on the bump with Giomar Diaz, but he sailed a pitch to the backstop to bring the fifth run of the inning. Finally, Crews smoked a single back up the middle to drive another two runs in, giving Fredericksburg a 7-0 lead after the opening frame.
Augusta battled back in the next half inning, loading the bases with just one out. However, Austin Amaral walked in a run, and Kevin Rodriguez hit a man to force another run home in the inning, but Rodriguez limited the damage to just two runs.
After a scoreless third, the Greenjackets continued to claw their way back. Tyler Collins added a run in the fourth for the 'Jackets to make it 8-3. And in the top of the fifth, Augusta kept up the pressure. A walk and two singles loaded the bases, when Jace Grady cut the deficit to four runs with a sacrifice fly that pushed Kade Kern to third base.
With runners on the corners now, P.O. Boucher stole second base, while Kern broke for the plate and scored to make it 8-5.
That would be as close as the Greenjackets got, though. In the home half of the sixth, Morales walked and then went first-to-third on an Andrew Pinckney single, before Roismar Quintana walked again to load the bases.
Augusta struck out the next two, but Armando Cruz punched a base hit up the middle to score Pinckney and YoYo to give the Freddies some breathing room at 10-5.
After Gavin Dugas walked to once again load the bases, Elijah Nunez picked up his fourth base hit of the night, an RBI double down the left field line to extend the lead to 12-5 Fredericksburg.
Liam Sullivan earned his first professional win, while Luis Vargas was saddled with the loss.
In Game 2 tomorrow night, Luke Young gets the ball for the FredNats against Jhancarlos Lara.