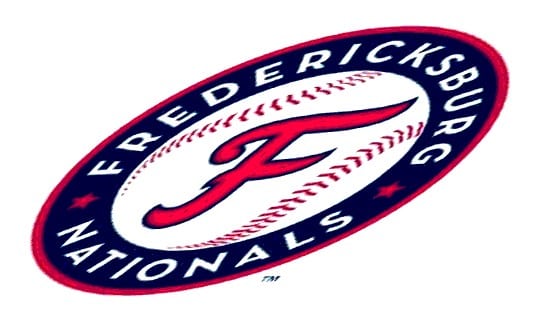 The FredNats wrapped up a big week with Augusta with a 7-0 win on Sunday, taking the series with Ws in five of the six games.
Dylan Crews and Yohandy Morales combined to get the Freddies, the Low-A affiliate of the Washington Nationals, an early lead in the bottom of the first. Crews absolutely hammered a double to dead center, then Yohandy Morales smashed the next pitch to right to bring Crews around.
After that, Liam Sullivan shoved in his second FredNats start. The big southpaw turned in three shutout frames without allowing a hit, and striking out six GreenJackets. Austin Amaral followed him with three more scoreless innings, with seven punchouts.
Augusta's starter Lucas Braun did his part to limit a red-hot Fredericksburg lineup. Making just his third professional start, Braun worked 4.2 innings of one run ball, but left with two outs in the fifth. New arm Seth Keller then allowed a Crews single to left, but it rolled under PO Boucher's glove in left field, and Elijah Nunez came all the way around to score, which made it 2-0 Nationals.
Keller held it there for Augusta, until the bottom of the seventh. Tuda Thomas opened the frame by drawing a walk, then Nunez singled, and both men stole a base to move up to second and third base.
After a strikeout, YoYo punched a grounder through the drawn-in infield, plating both Thomas and Nunez to double the Fredericksburg advantage.
Augusta, the Low-A affiliate of the Atlanta Braves, allowed three more runs in the eighth on a Nunez single, and a pair of defensive miscues, before Marquis Grissom Jr. worked a flawless ninth inning to secure the win.
Austin Amaral earned his first professional win, while Bruan suffered his first loss.
The Nationals head to Salem next week, to take on the Red Sox for the final time this season.