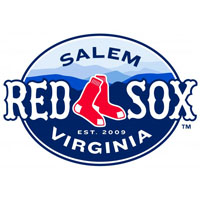 The Frederick Keys scratched across a run in the tenth, and held on for a 7-6 victory over the Salem Red Sox in ten innings at LewisGale Field Tuesday night.
Miguel Chalas got the win in relief for Frederick, lasting three and a third out of the pen, allowing four hits without a run. Kyle Martin was saddled with the loss, going three and a third, surrendering four hits and a run. Jesse Beal picked up his second save for the Keys.
Frederick struck in the first inning off Sox starter Cody Kukuk. Mike Yastrzemski led off with a walk, followed by a single by Glynn Davis. With one out, Michael Burgess hit a sacrifice fly to make it 1-0. A batter later, Jason Esposito singled in Davis to give the Keys an early 2-0 edge.
The game was then delayed by rain for 30 minutes before the bottom of the second inning. The Keys would strike again in the top of the third, with William Cuevas coming out to the mound for the Sox after the delay. Davis led off with a double, and scored on a single by Burgess to give the Keys a 3-0 lead.
The Sox would get on the board in the fourth. Mike Miller scored on a single by Aneury Tavarez to get the Sox within two.
The teams would each put up three spots in the fifth. With one out, Trey Mancini singled, and Burgess and Esposito doubled back to back. That was followed up by a sacrifice fly by Sawyer, good enough for three runs and a 6-1 edge.
But the Sox clawed their way back in the bottom of the frame. Jordan Weems led off with a double, followed by a single by Vinicio. Then Matty Johnson launched his first triple of the game. He score don a single by Mike Miller to cut it to 6-4.
In the bottom of the sixth, the Sox complete the comeback to tie the score. Tavarez led off with a single and stole second. With two outs, Jose Vinicio, singled to put on for Johnson. Matty stroked his second triple of the game, scoring both runs and tying the score.
Cuevas was solid out of the pen holding down the Keys, lasting four and two thirds, allowing four runs on six hits.
The game held 6-6 until the tenth. With one out, Adrian Marin singled and moved to third on Joel Hutter's single a batter later. With two outs, Mike Yastrzemski singled home Marin to give the Keys a 7-6 lead. Beal allowed a hit in the tenth, but shut the door for the save.