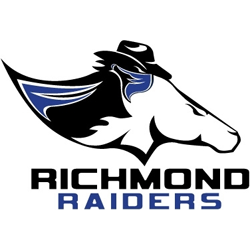 Kicker T.C. Stevens and offensive lineman Kynneth Moses led four Richmond Raiders who were selected to the All-PIFL first and second teams, the league announced today. Both players were recognized for the third straight year, while two first year defensive players, lineman Devin Jones and linebacker Gus Tyson, joined them on the honor roll as voted on by coaches and front office staffs of all eight league teams as well as league officials.
Stevens reclaimed his spot as the first team all-league kicker after earning second team recognition last year. He was the first team kicker in 2012. This season, he led the PIFL in field goals and field goal percentage, and made over 85% of his extra points. He had 13 unos, including the game winner with 13 seconds left against Lehigh Valley June 6. He was named the league's Special Teams Player of the Week twice, including after setting league records with five field goals and 22 points scored kicking against Harrisburg June 14.
Jones wreaked havoc on opposing quarterbacks and was named a first team defensive lineman in his rookie indoor season. He led the league with 12.5 sacks and finished second with 17.0 tackles for a loss, despite missing the last two games of the season with an injury. His impact extended beyond the stat sheet. Head coach James Fuller consistently credited Jones for getting into the offensive backfield and forcing the action toward a teammate when not getting a sack himself. His presence helped the Raiders lead the league in sacks and tackles for loss.
Moses is a triple repeat All-PIFL selection. After earning first team honors the past two seasons, he is one of the second team offensive linemen this year. A steady and reliable blocker, Moses has missed just one game over the past three seasons and has started 34 straight contests. He helped pave the way for Kenny Jones to rush for 3.9 yards per carry and 10 touchdowns.
Tyson was named a second team linebacker to give the Raiders multiple defensive selections for the third straight year – the only team to accomplish that feat. He logged 7.5 tackles for loss and 5.5 sacks. A key component in the Raiders defense that led the league in total defense and red zone defense, Tyson showed a knack for being around the ball more often than not and was a major contributor in the team's allowing just 62 offensive touchdowns, the fewest in the league.
The Raiders will return to the Richmond Coliseum for their sixth season in the spring of 2015.
Schedule and season ticket information will be announced in the near future. Check www.RichmondRaidersProFootball.com for updates and more information on the team's offseason appearances and activities.