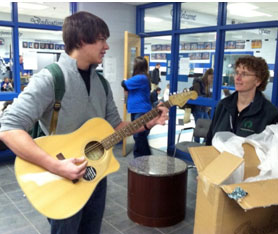 Fort Defiance High School sophomore Branden Thomas received quite a surprise the morning of Jan. 4 – a brand new guitar, made possible through The Fender Music Foundation.
The week before Christmas, Branden and the rest of the Thomas family suffered a terrible loss as their home was lost to a fire. Fort Defiance students and the surrounding community quickly jumped into action collecting money, food, and clothing to help the family after the fire. Branden has a passion for music and lost music equipment, including his guitars in the fire.
Central Shenandoah Valley Office on Youth staff Dirk Robertson and Keri Jones helped facilitate the acquisition of the guitar from The Fender Music Foundation. The foundation is a national music charity whose purpose is to enrich the lives of others through music, and to give people of all ages the chance to create, experience, and enjoy everything music has to offer.
It is also the mission of the Office on Youth to better the lives of others, so assisting with the guitar donation was a perfect way to start the New Year. The guitar was presented to Branden by Keri Jones in the presence of Fort Defiance Assistant Principal Amy Pultz and office staff. Branden was ecstatic to receive the gift.