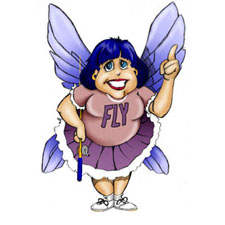 Slow down you move too fast. We are all in such a hurry these days that we don't take time to stop and smell the roses. We hear ourselves say "I don't have time" yet we waste more time searching for things. If we could recoup those hours we spend each day looking for keys, shoes, socks and purses; then we would relieve most of the stress in our lives.
From the time we get up in the morning till our heads collapse on our pillows; our bodies are in a constant state of chaos. We keep doing the same things and we can't see a way out of our stressed filled merry-go-round. Most of the time, we don't even feel the stress because our bodies have become immune to the adrenaline.
Eventually it is our bodies the fall victim to the over-flow of adrenaline. Our immune systems go haywire. We no longer can fight off colds and our heads hurt; then we find that our muscles and joints hurt. What can we do to stop our bodies from rebelling.
Most of us have two speeds: Ninety miles per hour or dead stop. We feel invincible when we are at full throttle. We even pride ourselves at being so good at multi-tasking! The truth is that we only think we are good at doing more than one thing at a time. The reality is most things are half done and really never finished. I have a set of simple little rules that will help you get off of this horrendous carnival ride.
FlyLady's 11 Commandments
1. Keep your sink clean and shiny!
2. Do your Before Bedtime Routine EVERY NIGHT
3. Do your Morning routine EVERY DAY, RIGHT WHEN YOU GET UP.
4. Don't allow yourself to be sidetracked by the computer
5. Pick up after yourself. IF YOU GET IT OUT, PUT IT AWAY WHEN FINISHED
6. Don't try to do two projects at once. ONE JOB AT A TIME.
7. Do something for yourself every day, maybe even every morning and night.
8. Work as fast as you can to get one job done. This will give you more time to play later.
9. Smile even when you don't feel like it. It is contagious.
10. Make your mind up to be happy and you will be.
11. Pamper yourself, you deserve it.
These few simple rules will help you get rid of the stress that you feel. Post them on your refrigerator where you will see them. You deserve to have a little peace in your life. Peace begins with you!
For more help getting rid of your CHAOS, check out her website and join her free mentoring group at www.FlyLady.net or her book, Sink Reflections, published by Random House, and her New York Times Best Selling book, Body Clutter, published by Simon and Schuster. Copyright 2011 Marla Cilley Used by permission in this publication.