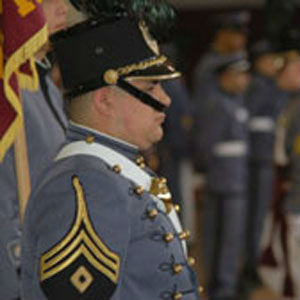 Nearly a century ago, against the backdrop of a world at war, Fishburne Military School in Waynesboro was among the first schools in the nation to form a JROTC unit.
The Junior Reserve Officer Training Corps program is woven into the fabric of the culture at Fishburne today, with impacts beyond the drill field and into the classroom and barracks.
"The fact that this year is the 100th anniversary of JROTC shows that it works. It shows that JROTC isn't for creating soldiers. It's for creating better citizens," said Jacob Randall, a junior from Stafford, Va.
FMS will join more than 1,600 schools across the country in an upcoming national celebration of the 100th anniversary of the JROTC program.
A series of events are scheduled for Saturday, April 23. The National Defense Act of 1916 that created the ROTC and JROTC programs was signed into law by President Woodrow Wilson on April 23, 1916.
As war raged in Europe, the Act authorized high schools to accept the loan of federal military equipment and the assignment of active-duty military personnel as instructors.
The JROTC program began with units in six schools in 1916. Fishburne's JROTC unit was initiated in 1919, and today there are 1,645 units in public and private high schools nationwide, with more than 281,000 cadets taking part.
JROTC is an "essential part of the everyday fabric here at Fishburne," said Lt. Col. Robert Hunt, the Senior Army Instructor at Fishburne and the head of the school's JROTC program.
The program has adapted over the years, at Fishburne and nationally, beyond its early, purely military focus to take on a broader role in leadership training and personal character development.
Cadets at Fishburne are required to participate in JROTC, which infuses the core tenets of the study of ethics, citizenship, communications, leadership and life skills designed to prepare cadets to take their place in adult society into everything else going on around campus.
For Will Goshgarian, a junior from Virginia Beach, Va., the impacts are felt across the board.
"I definitely feel like it helped me develop a lot of life skills," Goshgarian said. "You learn all the different levels of leadership styles, and once you use them here, you get to utilize them in the barracks when you're in a position of command.
"It also has had an impact on what you do in the classroom," Goshgarian said. "Before I came here, I had trouble concentrating and keeping focused. I've learned some things here in JROTC that have helped me focus and succeed in the classroom."
The lessons learned through JROTC are foundational in nature, according to Hunt.
"For these young men to be leading their peers in a boarding environment is one of the most challenging things they will face in life," Hunt said. "JROTC provides them with a foundation to build from to be able to provide that kind of leadership, and that experience is something that they can build on throughout their lifetimes, as they go on to college and into the work world."
Story by Chris Graham