Sports
First-year Isaac Traudt working to earn minutes in Virginia's crowded frontcourt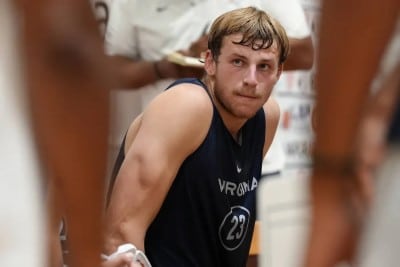 Isaac Traudt has had a pair of solid outputs in Virginia's first two games in Italy, contributing eight points, four rebounds and three steals in Virginia's 76-24 win over Stella Azzura Basketball Academy on Saturday in Rome, then going for a game-high 19 points, six rebounds, three assists and two steals in the 71-41 win over Orange1 Basket Bassano in Florence on Monday.
Traudt, a 6'9" freshman, is one of the four members of the heralded 2022 recruiting class, which is pushing for playing time in a rotation that returns its top six minutes-getters from last year and added Ohio transfer Ben Vander Plas from the transfer portal.
Traudt will likely be competing with Vander Plas and last year's leading scorer, Jayden Gardner, for minutes at the four spot, with Kadin Shedrick and Francisco Caffaro back to split minutes at the five.
It's a nice problem for Bennett to have. Last year, it was Gardner, Shedrick and Caffaro, and hope that none of them got into foul trouble.
Traudt, a four-star prep recruit, didn't commit to Virginia to redshirt or to get garbage minutes at the end of blowouts.
"It's tough, because in high school, you know, everything went through me, and I was used to, you know, kind of having to do everything," Traudt said after the win over Orange1 Basket Bassano. "But there's also a positive to that, you know, you don't have to spend a lot of time doing everything, you know, I've just got to play my role and try and do it the best I can."
Traudt said coaches pushed him after the opening game to hit the offensive boards more, "and then once I started doing that, you know, we got some boards, got some shots in the in the hole, and then I started getting more confident and just felt more comfortable out there."
No one who saw Traudt in high school doubted his ability to score and bang in the post.
The big question is his ability to adapt defensively.
"That's been a big adjustment for me, because they just demand so much of you defensively," Traudt said. "In high school. I didn't really play a whole lot of defense, so I've kind of had to adjust to that. That's been the biggest adjustment."