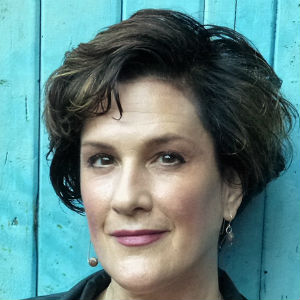 Alumna Patricia Grace King is the featured author at a Feb. 22 Writers Read event at Eastern Mennonite University. The reading will be in Common Grounds coffeehouse in the University Commons at 6:30 p.m.
King will read from her recent novella Day of All Saints (Miami University Press, 2017), which won the press's  Novella Prize. In it, Martín Silva de Choc, childhood survivor of an army massacre during the Guatemalan civil war, and now a language school teacher in Guatemala City, falls in love with his American student, Abby, and follows her home to Chicago. Days before their wedding, Abby goes missing, and on a Halloween afternoon Martín embarks on a search that leads through the ghost-strewn yards of Chicago—and ultimately back to his violent past.
The novella is "a heartbreaking, sensual tale, steeped in the rich details and characters of Guatemala," wrote author Patricia Henley in a review, and author Christopher Castellani called it "elegantly-structured, suspenseful, and affecting." King, he wrote, has "sharp prose, vivid setting across two cultures, and a profound empathy for the dispossessed, the forgotten, and the dreamers."
The impulse for the story, King said, happened while walking one fall with her husband in Chicago. They had just moved there from Guatemala, where she had heard the testimonies of civil war survivors now reflected in the protagonist's backstory. King said she was "blown away" by the extent of some Chicagoans' Halloween decorations, and she remembered Guatemalans she knew who saw the holiday as "a devilish business." In those same Chicago yards, King said, "I often saw Latino men working – and heard them speaking Spanish – and I'd wonder how differently they perceived this American holiday."
King hopes that the book will be one that "expands and enriches the world of the reader" and "creates a bridge between the reader's experience and the experience of another human."
A 1989 graduate of EMU, King now returns to campus with a perspective that she would offer to her younger self, if she could: "It is possible to make a life out of art," she said.
"Even though I knew from age five or six that I loved to write, it took me decades to find out for myself that, with perseverance and talent and training and luck, being a writer is something a person can actually do. Not just as a hobby. Not just as a loved activity squeezed in around the edges of so-called real life," she said.
King said that as a student at EMU she "immediately felt at home." But she's a big fan of EMU's cross-cultural program, because international experiences and cross-cultural learning are "life-changing."
"Those international experiences I had as an EMU student are also one of the reasons I'm drawn toward border-crossing or fish-out-of-water stories, a genre to which Day of All Saints definitely belongs," she said.
King, a native of North Carolina and past resident of Atlanta, Chicago, Virginia's Shenandoah Valley, Spain and Guatemala, received a PhD in English from Emory University and an MFA from Warren Wilson College's Program for Writers. She taught in EMU's language and literature department from 2000 to 2003. She currently lives in Durham, England.
Her previous works include two chapbooks, and she is finishing a novel and a story collection. Her stories have been published by Ploughshares, The Gettysburg Review, Narrative Magazine, and Nimrod International Journal of Prose and Poetry, and she was the 2013-2014 Carol Houck Smith Fellow at the Wisconsin Institute for Creative Writing.
Story by Christopher Clymer Kurtz