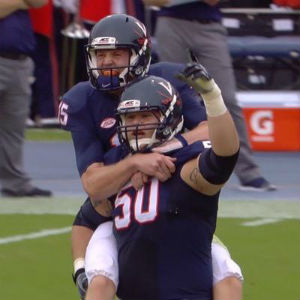 The old saying about quarterbacks is that if your team has two, it doesn't really have one. Well, UVA has three quarterbacks, so that's worse, right?
Coach Bronco Mendenhall said Thursday at the ACC Kickoff event in Charlotte, N.C., that three quarterbacks are in contention to be the starter, and that he doesn't expect to make a decision on the starter until fall camp is over.
Yeah, ugh.
The inability of Mike London and his various staffs to get the quarterback position right was the downfall of that regime, and really the issues at QB date back to the early years of the Al Groh era.
Since Marques Hagans finished the 2004 season ranked second in the ACC in passing efficiency, the position has been manned by the likes of Christian Olsen, Jameel Sewell, Marc Verica, Michael Rocco, David Watford and Greyson Lambert.
Only once in the past 10 years has a UVA quarterback finished better than eighth in the ACC in passing efficiency, Verica in 2010, with an average finish in that metric of 9.5.
Matt Johns is the incumbent after starting all 12 games in 2015 for the Cavs, finishing 11th in pass efficiency (127.8), throwing for 2,810 yards and 20 touchdowns with a 61.3 percent completion rate, but also throwing an FBS-worst 17 interceptions.
Mendenhall said Thursday that he loves Johns' "leadership and his poise and his experience," but it is worth noting that this was all he said about him.
Connor Brewer, who transferred to Virginia last summer after stints at Texas and Arizona, "had a very good spring," Mendenhall said, and was "much more efficient and effective than any of us expected."
"He was just grateful for a chance. But he made the most of it. He is in contention," said Mendenhall said, as is East Carolina transfer Kurt Benkert, who has two years of eligibility remaining.
"We're very intrigued by what we've seen from (Benkert) with the upside that he has two years of eligibility. There is a nice bridge there that could be formed with the possibility of more experience," Mendenhall said, perhaps tipping his hand as to who might have the lead in the clubhouse as the beginning of camp is on the horizon.
But the coach stressed that he won't make a final call until camp is over.
"We'll have to do a masterful job of orchestrating fall camp to distribute the repetitions enough to be clear enough as to who is the uncontested leader, which is usually one of the biggest challenges in a relatively tight timeframe," Mendenhall said.
The uncertainty is unfortunately a familiar refrain for Cavs' fans.
– Story by Chris Graham