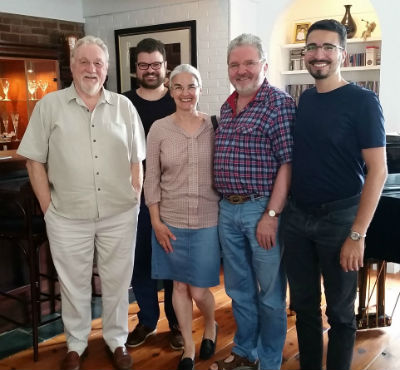 Staunton-based artist Ronald Neill Dixon met with the owners of a renowned Bavarian woodcarving workshop last week to begin collaboration on a new line of liturgical statues and furnishings.
Based in Oberammergau, Germany, site of the famous Passion Play, the Albl family has been producing religious wood carvings for fourteen generations, since. 1556.
Originally from Northern Ireland, Dixon has built his career designing interiors of hundreds of churches across America.
Following a tour of Dixon Studio downtown and a review of the Albl portfolio and samples, discussions continued over lunch at Bellefonte, site of Staunton's founding in 1790 and Dixon's personal studio today.
"We share an appreciation for local heritage and traditional arts," said Dixon. "This is a natural collaboration between us that will draw upon the Albl family legacy and allow me to offer high quality execution of my designs to a greater number of faith communities."
First efforts will focus on unique custom works for Dixon Studio's existing clientele while the line of standardized carvings is in development.