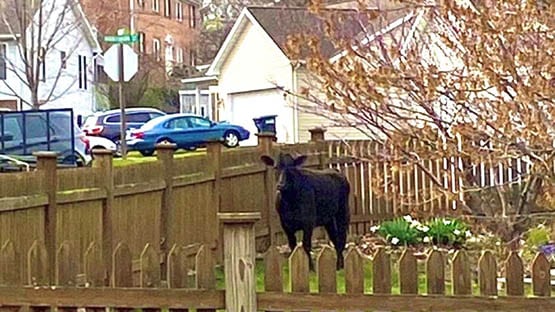 A cow that escaped from a local livestock auction before wandering throughout a portion of the city was safely captured and returned to its owners by the Harrisonburg Police Department on Tuesday afternoon.
The HPD received reports starting at approximately 2:24 p.m. on March 28 of a cow loose in the area of Waterman Drive and other areas on the west side of the city.
Officers learned that the heifer had escaped from the area of Shenandoah Valley Livestock Sales on Edom Road before winding its way south along roads and yards.
Officers located the animal after community members spotted it in the area of Wyndham Drive.
It emerged from the woods, crossed South High Street and eventually stopped in backyards on Sharon and Middlebrook streets.
HPD's Animal Control Officer as well as officers from patrol and other units of the department responded to the scene to ensure the event was brought to a conclusion safely for area neighbors and all involved.
Officers worked with a local veterinarian who prepared a tranquilizer dart that the officers used in conjunction with portable cattle gates to safely corral the animal behind a residence in the 90 block of Middlebrook Street.
The animal was safely captured at approximately 5 p.m., and employees of the livestock auction transported it safely from the area so it can be returned to its owner.