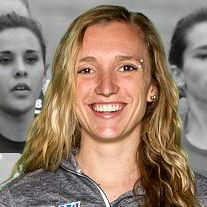 Eastern Mennonite University's Hannah Chappell-Dick (Bluffton, Ohio/Bluffton) earned a major award Monday, winning the Marjorie Berkley Award from the Old Dominion Athletic Conference.
The Berkley Award is given to the top female scholar-athlete from across all of the sports which the ODAC sponsors.
Chappell-Dick is a six-time ODAC/Virginia Farm Bureau Mutual Insurance Scholar-Athlete who also won her fifth overall All-American medal at the NCAA National Track & Field Championships last month.
Eastern Mennonite Director of Athletics Dave King nominated Chappell-Dick for the award.
"Student-athletes like Hannah don't come along very often," King explained. "Beyond being a naturally gifted runner, she has the desire and commitment to reach levels of excellence in all areas of her life. While improving her athletic ability to reach the level of All-American five times, Hannah has embraced the Division III philosophy by not just engaging, but excelling, in activities both on campus and in the community. The breadth of her involvements, along with her commitment to high standards in all she did in her time at EMU made her a good candidate for the Marjorie Berkley Award and a worthy recipient."
Chappell-Dick has a stable full of honors following four seasons as a cross country and track & field star for EMU. She is a five-time All-American, earning four of those through her track exploits that include back-to-back runner-up finishes in the mile run at the NCAA Division III Indoor Track Championships. Three times she has earned USTFCCCA South/Southeast Region Athlete of the Year distinction, while also garnering ODAC Indoor Championships Athlete of the Meet laurels in 2015.
The Bluffton, Ohio, native is a 12-time champion in ODAC track events, in addition to four seasons as an All-ODAC First Team cross country runner that culminated with an individual championship this past fall. She owns six ODAC records on the track — the overall (4:54.32) and championship (5:03.54) marks in the indoor mile run, the overall (4:27.25) and championships (4:38.61) standards in the outdoor 1,500m run, the championship (2:11.80) record in the 800m run, and the championship mark (12:37.64) as a member of EMU's distance medley relay team in 2015.
In the classroom, Chappell-Dick maintains a 3.84 grade point average as a biology major with minors in coaching and exercise science as a member of EMU's Honors Program. She earned each of the ODAC's Scholar-Athlete awards for cross country, indoor track, and outdoor track the past two seasons. A Capital One Academic All-American, as selected by CoSIDA, Chappell-Dick is a four-time honoree on the USTFCCCA All-Academic Track & Field Team in addition to two honors on the cross country squads.  She soon will be a four-time honoree on the All-ODAC Academic Team.
For Eastern Mennonite, this is the sixth Berkley Award in school history, but its first since the school changed names from Eastern Mennonite College. Its previous five winners marked the first five Berkley Awards bestowed from 1984-88. EMU'sAdam Shank won the Jopson Award in 2006, which is the male equivalent of the Berkley Award.
Of the five previous Berkley awardees from Eastern Mennonite (Becky Derstine, Cheryl Ann Bergey, Linda Burkhardt, Noel King and Ann Wenger) four are also in the EMU Hall of Honor.
Dave King said Chappell-Dick was worthy to carry on the tradition of her predecessors.
"Hannah has embodied what EMU is about: a well-rounded education, striving for excellence in all we do and preparing to serve and lead in a global context," he said.
Chappell-Dick also shines in the community and on campus. EMU's SAAC President and running teammate Alec Thibodeaux(Mount Sidney, Va./Fort Defiance) created FLASH Track Club, which is an after-school program serving 10-12 year olds. She has worked with Big Brothers Big Sisters for the past four years, as well as serving as a NEO Cross Country Camp Counselor during that span. Chappell-Dick completed a cross-cultural trip to Guatemala in 2014, attending language and cultural lessons through the Guatemala City's Semilla Seminary "CASAS" program.
Chappell-Dick has already begun her post-collegiate career, running semi-professionally with the Atlanta Track Club. In August she will also start a year of service in Atlanta's inner city, volunteering with "Back on my Feet" through DOOR/Dwell.
King said Chappell-Dick is carrying her core characteristics from her days as a Royal to her life away from campus.
"It is rewarding to know that Hannah will continue to integrate her two passions, running and service, as she begins running professionally while serving others in Atlanta," King said. "She has had a major impact on the EMU's running program and I'm excited to see how she impacts people and communities in the future."