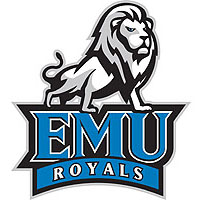 After a slow start to Wednesday's home opener against Southern Virginia, the EMU soccer women found their stride and earned a 1-1 draw in double overtime. The decision snaps the Royals' season-opening two-game losing skid.
The Knights had all the momentum in the first half, out-shooting EMU 12-0 in the 45-minute frame. The visitors found the net in the 21st minute, but keeper Becca Borg (Gig Harbor, Wash./Peninsula) made a few nice saves to keep it at a 1-0 deficit.
The tide started to turn for the Royals midway through the second half. Morgan Hill (Martinsville, Va./Carlisle) attempted the women's first shot in the 68th minute. Sam Winkler (Round Hill, Va./Woodgrove) put a shot on goal in the 72nd minute, but SVU's keeper made the save.
One minute later, the Royals finally found the net. Hill served a corner from the left side across the face of the goal. Freshman Sara Shenk Moreno (Harrisonburg, Va./Harrisonburg) deflected the ball through traffic and into the net, equalizing the score at 1-1.
Eastern Mennonite nearly snuck in a go-ahead score with four minutes left in regulation, but a shot from Nora Osei(Springfield, Va./West Springfield) was saved and Hill's rebound attempt sailed high.
Each team had a handful of looks at the net in the overtime periods, but neither could hit the golden goal as they settled for the tie.
The Knights enjoyed a 27-9 advantage in shots, including 11-4 on goal. Borg made nine saves for the women, while Hill had a team high three shots.
EMU, now 0-2-1, stays at home to take on Hood Saturday night under the lights. The non-conference game will start at 7:00pm.