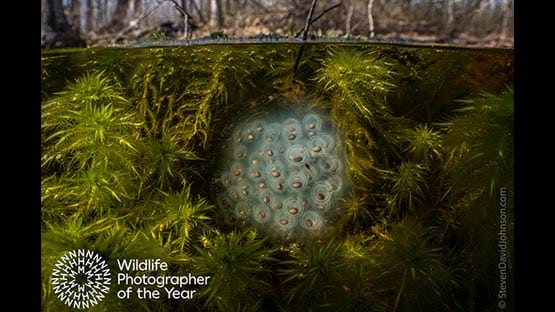 An Eastern Mennonite University professor and conservation photographer was named as one of the world's top 100 wildlife photographers of the year by the Natural History Museum in London.
Steven Johnson was encouraged to take part in the contest by family and friends.
His photo, "Pool of Wonder," was selected along with 99 other winning images by a jury of nature photography experts out of 49,957 entries from 95 countries.
"This one always felt like it had something a little special to it," he said. "I think the sort of symmetry, the color, it all felt like something had come together in that image."
"Pool of Wonder" captures a cluster of spotted salamander eggs nestled on a bed of sphagnum moss just under the surface of a vernal pool in Augusta County. Vernal pools are temporary bodies of water that form from seasonal rains and snowmelt. In late winter and early spring, the pools host breeding events for amphibians and macroinvertebrates. The pools are ideal nurseries for salamanders because they're safe from predators such as fish.
Johnson said part of his mission as a conservation photographer is to highlight the threat that development and climate change pose to the underwater worlds. Less predictable spring rains are causing pools to dry up before the young salamanders can fully develop and live on land.
Johnson, program director for the Visual and Community Arts (VaCA) program at EMU, took part in an awards ceremony last month at the museum.