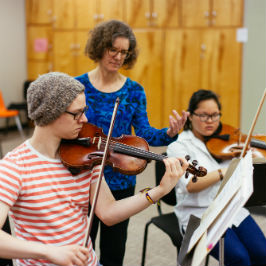 Isaac Dahl is a religious and intercultural studies major. Quinn Kathrineberg plans on a career as an English teacher. Maria Yoder wants to be a doctor. Among the members of this string quartet, only Jacinda Stahly is a music major.
That was a point that Richi Yowell, program director at Gemeinschaft Home, shared with a full room of ex-offenders one Sunday last spring.
After the final round of applause for the quartet's short program of specially selected classical music, Yowell stepped to the front of the community meeting room and thanked the performers, all students at Eastern Mennonite University.
He was impressed, he said, that only one of the musicians planned on a career in music, yet they clearly spent hours of time practicing their art.
"If you find something you love to do, it can be a part of your life forever and it can bring you a lot of happiness," he said.
Jacinda Stahly, a music performance major, is interested in pursuing a career as a Suzuki violin instructor. Stahly selected music and created interactive lessons for the pre-school children in the audience, one of whom can be seen behind her reacting to the volume by raising his hand.
That music plays an important role in each of these students' lives has been reaffirmed in new ways this last semester with an "Outreach Chamber Music" class taught by Professor Joan Griffing.
In the course of the semester, the quartet planned and rehearsed interactive programs for four very different audiences, seeking to bring classical music to people who may not have the opportunity to experience live performances. In addition to Gemeinschaft Home, the group played at the Virginia School for the Deaf and Blind in Staunton, and at Virginia Mennonite Retirement Community and the Early Learning Center at Park View Mennonite Church in Harrisonburg.
"One purpose of the class is to move music away from traditional performance and to see it as a bridge to connect to people you might not ordinarily meet, to bring music into marginalized communities," Griffing said.
Quartet provides musical challenge, freedom
The members of the quartet, all of whom are experienced performers, said the chance to move out of their comfort zones was both challenging and exhilarating.
The quartet format provides each performer with the power of individual expression. "In orchestra, the goal is to blend yourself with the rest of your section, to sound exactly like everyone else, but in the quartet, it's the opposite," said Yoder, as her fellow musicians nodded in agreement.
Professor Joan Griffing, with Isaac Dahl and Quinn Kathrineberg, guides a rehearsal.
Also in contrast to orchestra, said Stahly, the quartet has more control in choosing musical selections "that we thought were fun and meaningful, which helped us take ownership of our performance."
Then, add the rigor of "more practice time, more instruction, and more performance," said Kathrineberg.
And finally, take the added interesting dynamic of being listened to by those who have little experience with classical music and who might not simply "sit and clap politely," as Yoder described a well-trained audience.
Audience interactions fulfilling
Yoder, who designed the program for Gemeinschaft Home, said she was particularly moved by that first performance. "Everyone was very attentive and in tune … They were the most vocal and let us know that they appreciated us. Usually audiences, don't call things out [to musicians] or tell us to play more."
Stahly, a future Suzuki violin teacher, designed the program for the Early Learning Center, where she loved seeing the children interact with the music, even dancing for one of the pieces.
Watching as he played, Dahl reflected on his own formative experiences. "I reminded me of when I was young and being mesmerized by their music. Hopefully they had that experience," he said.
Kathrineberg noted that these performances built community with unique audiences in ways she hadn't experienced before.
The outreach music class is taught on an irregular basis, but Griffing says she'd love to see it offered every semester. That three non-music majors are interested in the elective class speaks highly of the level of interest on campus.
Quinn Kathrineberg performs a world premiere composition by Professor Ryan Keebaugh at the May commencement ceremony at Eastern Mennonite University.
"The majority of students at EMU are not going to be professional musicians—of course, if they want to be, we'll prepare them for that – but most students will be involved in music here because it's an important part of who they are," Griffing said. "Our vision is that these students will grow musically and have challenging musical experiences and then go out in the world and have those experiences inform and enrich their lives and the lives of others they come in contact with."
'Years of practice worthwhile'
Taking music out of its normal settings and sharing it with diverse audiences, she said, is a step towards connecting these music lovers with impactful future music-making.
A few years ago, the music department hosted "Art Attacks," a week of surprise musical performances on campus.
"We showed up in the marketing office or the development office or the physical plant and we played duets or sang Christmas carols and it was so much fun," Griffing said. "People loved it."
While impromptu performances might not be in this group's future, they're planning to play together in the future, though with one less member. Stahly leaves for her cross-cultural semester next semester.
And after their experience with the outreach music class, they"ll be looking for unique venues and different audiences next year. "This experience showed me how wonderful it would be if we musicians would spend more time playing for those who have few other opportunities to hear and interact with live music," Stahly said.
"Seeing that your music makes someone else have a better day is the coolest experience," said Yoder, "and it makes all those years of practice worthwhile."