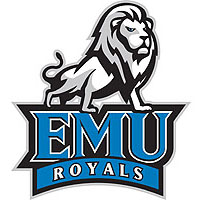 Going into extra time is becoming old hat for the EMU soccer teams. The men settled for a scoreless draw Wednesday afternoon in a non-conference contest at Lebanon Valley. It was their third straight double overtime game and, combined with the women's contest Wednesday night, it was also the sixth straight double overtime game for the Eastern Mennonite soccer programs.
After an even first half, Lebanon Valley seemed have an edge in possession as regulation wore on. But the keepers were the biggest influencers of the score. Juan Luna (Mount Jackson, Va./Stonewall Jackson) sent in a nice corner in the 63rd minutes, but LVC's keeper deflected the ball off the post and back out. He then made a pair of saves in less than two minutes on shots from Viktor Kaltenstein (Kirkwood, Pa./Lancaster Mennonite) to keep it scoreless.
In each of the overtimes one of the teams had a shot in the final minute, but again were kept out. Luna pushed a shot wide with six ticks left and the game ended in the 0-0 tie.
The Royals ended up getting out-shot 26-14, although shots on goal were even at 8-8. Andrew Yoder (Harrisonburg, Va./Eastern Mennonite) spent the first half and final OT frame in goal and made five saves. Matthew Overacker (Mount Crawford, Va./Turner Ashby) played from halftime through the first OT and earned three saves.
Kaltenstein had a game-best three shots on goal, while Luna added two.
After being held off the scoreboard for the first time this year, EMU moves to 2-1-2. They will need some fresh legs for their ODAC opener this weekend, playing at 2013 conference champion Virginia Wesleyan Saturday night. The Marlins are 1-2-1 this year against a tough schedule.