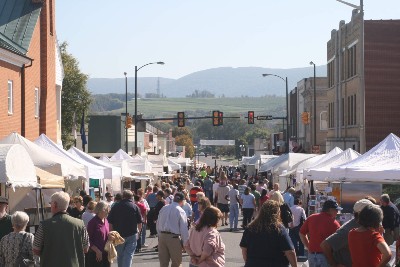 The Waynesboro Fall Foliage Festival Art Show brings hundreds of artisans to Wayne and Main streets downtown to showcase and sell their wares to shoppers from Virginia and beyond.
For emerging artists, it can be difficult to get a tent, sand bags and have enough art to make the entry fee to a big festival worthwhile.
The Shenandoah Valley Art Center has a solution with EMERGE 2022. The EMERGE area is set up inside 416 W. Main St. – and located right in the heart of the show.
The cost for the artist is only $125, and applications are being accepted now. The spaces will be 8 feet wide by 6 feet deep – and no tent is required. Artists will need to provide their own display tables or panels.
The festival will be held on Oct. 8 and 9, 2022 – and features more than 150 artists, food trucks, local music and more.
The EMERGE area will be open from 10 a.m. to 5 p.m. on Oct. 8, and from noon to 5 p.m. on Oct. 9. SVAC said they will be taking extra steps this year to ensure visitors know where to find the local and emerging artists.
For more information or to apply online, visit https://www.svacart.com/emerge-2022