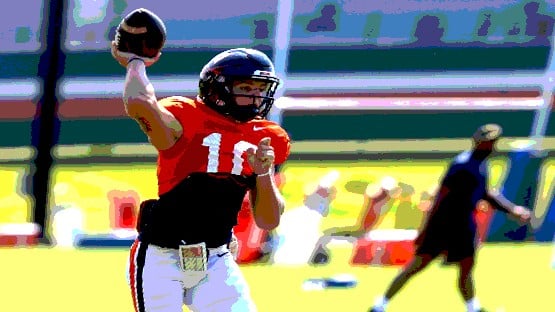 Anthony Colandrea looks like the QB of the future, but as to whether he's the UVA QB of the present, well, Tony Elliott has a policy: that a starter doesn't lose his job due to injury.
"We'll assess Tony, see where he is," said Elliott, referring to Tony Muskett, his Week 1 starter, who was injured in the fourth quarter of last week's 49-13 loss to Tennessee.
Muskett injured his left (non-throwing) shoulder when he was sacked and landed hard on his left side in the loss in Nashville, and on Tuesday, Elliott told reporters in his weekly presser that his QB1 was "day-to-day" and would be a game-time decision for this week's home opener with JMU.
The game-time decision ended up being going with Colandrea, a true freshman, and the kid looked like Lou Gehrig to Muskett's Wally Pipp.
Muskett was a pedestrian 9-of-17 for 94 yards in last week's blowout loss. Colandrea, on Saturday, was 20-of-26 for a UVA freshman record 377 yards and two touchdowns, and was pretty much the only thing to point to that worked in the 36-35 loss to JMU.
Muskett, according to Elliott, was available in an emergency, which is a nice way of saying, holy bejeezus, the pickings behind those two in the QB room – it's two walk-ons, Grady Brosterhous and Jared Rayman – are slim.
Elliott, speaking of Muskett postgame, said this: "I anticipate that by the time we get ready to roll out next week, he should be back ready to go, but don't quote me on that yet. I gotta wait to see what the doctor says."
What could the doctor possibly say, right?
It's nice to have a policy, but Colandrea is head and shoulders the better guy right now based on performance.
The kid consistently attacked the JMU defense downfield, was able to fit several balls into tight spots, and keep plays alive with his feet leading to big plays.
He did all of this with almost no help from the shaky AF offensive line that got him sacked four times, and could only clear the way for 43 sack-adjusted rushing yards on 31 attempts from the promising stable of running backs on the UVA roster.
There'd be nothing wrong with just going ahead and saying, Colandrea is the guy, Muskett is the veteran backup, and we're moving forward.
Speaking with reporters after the game, it almost sounded like Elliott was trying to downplay how good Colandrea had just played in his first college start, to try to justify why he went with Muskett over him as his QB1 out of training camp.
"We knew that he's a guy that when the lights come on, the bigger the stage, he seems like he elevates," Elliott said. "Thought he did a good job of managing the system, making throws. Then, he did what he does with the off-schedule plays, where you think you got him, and then next thing he pops out and he finds a guy on the run.
"There are still gonna be some opportunities for him to learn, but overall just really proud of the situation and the circumstances to step in there as a true freshman, considering obviously Tony going down and then everything else that he had to be a part of managing to get to this game."
Be ready for a hue and cry from the fan base when Elliott pulls the plug on Colandrea and goes back to the FCS transfer.
"I think that competition is great. I think healthy competition is really good because it makes each other better, and then it helps our football team," Elliott said. "It's a long season. We've got 10 more football games, and we're gonna play some physical football games. We've got to do a good job of balancing that competition, but we'll assess and see where Tony is, and then figure that out as we go through the week."