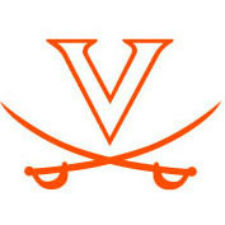 The UVA men's tennis program announced Thursday the hiring of Dustin Taylor as assistant coach. Taylor joins the program after four years at the United States Tennis Association, including the last two years serving as the USTA Player Development national coach for collegiate tennis.
"Everyone at the University of Virginia welcomes Dustin and his family into the UVa tennis family and the Charlottesville community," said head coach Brian Boland. "He is widely known to have one of the greatest minds in tennis and has coached several young Americans into the top 100 of the ATP rankings. Serving as the USTA's point person for collegiate tennis shows his belief and passion that college is a viable pathway to professional tennis. I have had the opportunity to get to know Dustin well over the past several years and I could not be more excited about having the opportunity to work with him. He is a great thinker and one of the most innovative coaches I know. Our players are going to enjoy learning and growing from him, as he has the integrity, morals, values and knowledge to help them develop into not only great tennis players, but better people."
Taylor became the first USTA national coach devoted to collegiate tennis in 2013, a role devoted to facilitating the development of top collegiate players into the top 100 of the ATP and WTA rankings. Taylor was also in charge of the USTA Collegiate National Team, which assists top collegiate stars in their transition to playing on the ATP and WTA Tours. His first three years as a USTA national coach involved coaching and training future American stars working at the USTA training center in Boca Raton, Fla.
Prior to joining the USTA, Taylor was a professional coach for several top 100 players, including Ryan Sweeting, Robert Kendrick and Tim Smyczek. In 2008, he was also the head coach of the New York Sportimes in World Team Tennis, leading the team to a second-place finish in the regular season and the semifinals of the playoffs. In 2011, Taylor served as the head men's coach for the United States Pan-American team in Guadalajara, Mexico, where his doubles team won the bronze medal. Taylor also coached 2012 NCAA singles runner-up and future top-100 player Rhyne Williams when he was a top junior player.
Taylor was a standout collegiate player at The University of Tulsa, where he was a four-time All-Western Athletic Conference honoree and a 2003 All-American. Taylor participated in four NCAA individual championships, highlighted by reaching the quarterfinals of the 2003 NCAA Doubles Championship. In 2004, he was named the ITA/Farnsworth Central Region Senior Player of the Year.
"It's an absolute honor and privilege for my family and I to come to the University of Virginia and join its storied athletic department and tennis program," said Taylor. "Coach Boland is one of the most respected coaches in the tennis world and to have the opportunity to work alongside him and Coach (Scott) Brown is an opportunity that I'm truly looking forward to, and honored to be given. I also can't begin to express how excited I am to assist in the development of some of the finest collegiate players in the country, both on and off the court, which is something that Coach Boland has been known for during his tenure at UVa."