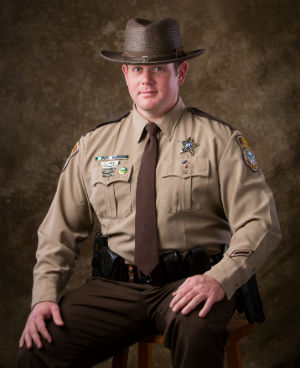 Twelve-year Augusta County Sheriff's Office deputy Donald Smith was elected sheriff Tuesday, with 34.3 percent of the vote in a crowded four-candidate field.
Smith, the assistant commander of the SWAT team, was more than 2,100 votes ahead of second-place finisher Derek Almarode. Todd Lloyd was third, and Neil Kester, the only one of the four candidates not currently employed by the sheriff's office, came in fourth.
Smith delineated himself from the field by promising to be a hands-on sheriff.
"I've noticed the difference between an engaged administrator and the figurehead-type administrator. I want to be engaged. Augusta County is not best served by an administrative-type sheriff," said Smith, a graduate of Fort Defiance High School, Blue Ridge Community College and Liberty University.
Almarode, a 21-year veteran of the office, was the Republican Party nominee, and had the support of the outgoing sheriff, Randy Fisher, and also had the endorsement of Sixth District Congressman Bob Goodlatte.
Lloyd, a 19-year veteran of the sheriff's office, is the son of late county sheriff Glenn Lloyd.
Kester, a senior conservation officer with the Virginia Department of Game and Inland Fisheries, had the endorsement of the News Leader, the only local media outlet to offer a formal candidate endorsement in the race.