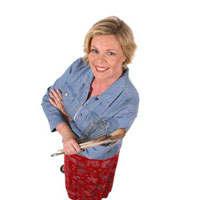 Dinner Diva column by Leanne Ely/SavingDinner.com
Some foods just plain taste better at certain times of year.  For instance, I bet you don't think much about making beef stew on a hot summer day. One thing that tends to scream summer is a cold dip. And I'm not talking swimming pools here, people! Some fresh crisp veggies and a nice refreshing dip makes for a perfect summertime lunch.
When it's hot outside, you may be tempted to head to the deli for your favorite dips. But, nine times out of ten, those packaged food items are full of non-healthy ingredients. Luckily, you can easily make your own summer dips that can take a regular snack or mid-day meal from okay to restaurant-worthy.
Let's take a look at five popular summertime dips and how you can easily make them yourself.
Tzatziki. Absolutely wonderful as a dip for fresh cut veggies, tzatziki is also great on a sandwich, with tortilla chips or on some nicely grilled fish. To make this Greek dip, mix some plain Greek yogurt with a shredded cucumber, some olive oil, lemon juice, minced garlic and a pinch of dill. Add salt and pepper to taste and enjoy!
Hummus. Ridiculously delicious, hummus is a great source of protein and a very versatile dip. Great with fresh cut veggies, warm bread or crisp tortilla chips, hummus is easy peasy to make at home. Traditionally made with chickpeas, lemon juice, olive oil and tahini, hummus is easy to tailor to your own tastes and dietary needs. For the paleoistas out there, swap out the chickpeas and swap in some organic chopped zucchini and a bunch of fresh parsley. Yum!
Ranch dip. Another classic dip for fresh veggies is the famous old standby: ranch dressing. It's not easy to find a version of ranch dressing that doesn't contain GMOs, but it is easy to make your own. All you need is some Greek yogurt, a bit of apple cider vinegar, raw garlic, fresh dill, sea salt and black pepper. Mix until you get a taste and consistency that you like and enjoy!
Guacamole. More than just a dip, guacamole is great with chips, sure, but it's also amazing on a sandwich, spread on burgers, on top of chicken breasts, mixed in with spicy seasoned ground beef or just eaten with a spoon. So yummy! And it's a cinch to make your own. All you need is a perfectly ripe avocado, fresh garlic, lemon or lime juice, cilantro and some salt. From there, you can just enjoy as is, or you can toss in whatever you like: lobster, crab, tomatoes, pineapple, red pepper, and so on and so forth!
Baba Ghanoush. Quite close to hummus in the ingredient list, baba ghanoush requires just a bit more labor. You start with roasted eggplant that must be chopped well (or it could also be blended if you like a more smooth baba ghanoush). Add in some garlic, lemon juice, tahini, olive oil and spices of your liking. Traditionally, you'd use cumin, crushed red pepper, a bit of basil and cilantro or parsley. Serve with cucumbers, tomatoes and/or pita bread.
If you have picky eaters at home, if you can find a dip they like, it can be a great motivator to try new veggies and meats.