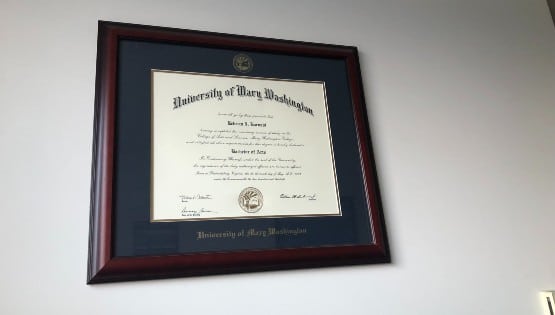 Last fall marked 20 years since I started college at Mary Washington College in Fredericksburg.
When I graduated in May 2006, not only was the college a different college with a new name, I was a different person about to start a new journey.
I was not your typical full-time college student. I had attended some community college classes after high school, but stopped to work full time for a few years in retail.
When I returned to college full time I was 24 years old, on scholarship and financial aid. I worked part-time jobs whenever I could while attending classes, writing papers to earn my bachelor's in English and spending time with family and friends. I lived on campus in a dorm room with a roommate because I wanted to do the full college experience. If I was going to do this and pay for it myself, I was going to completely do it.
I'm glad I was smart enough to understand that spending time with family and friends would mean more years later than whether I got As in my classes. For the record, I did pretty well in my classes, but I also have lots of memories and photographs of friends and good times.
I went to lunch at campus dining with roommates, had dinner with friends on campus and went to the gym. I remember I could hardly walk across campus to the gym or class or to get food without running into a friend. It was wonderful.
My brother and his friends visited often and hung out with my friends and I. My mom visited often and had dinner with me on campus. My dad also visited often and ate with me.
My first semester brought me two close friends on my dorm hall, as well as a chance meeting with several gals who I would later call my Sunday Gals. Most Sundays, a group of gals and I would get together and take turns making dinner for each other. These friends encouraged me to attend Christian group meetings on Friday nights.
Another friend encouraged me to go to church with her. I had not grown up attending church, although my grandfather was a preacher. In fact, by the time I was at MWC, I had been a self-professed atheist for almost 10 years. At college, I discovered God and my relationship with Him.
I also discovered that I love musical theater. More delightful than that, I love writing about theater productions, which I got to do for my college newspaper from 2003 to 2005. In fall 2004, my editor took me off of writing them when "Godspell" was about to come to the stage at my college. My replacement did a lousy job with the review and in January 2005, my editor asked me to take up the beat again.
In fall 2004 I had also interviewed and applied for a paid internship with the Free Lance-Star newspaper in Fredericksburg. Only four applicants would be accepted, and I was not chosen. Then, over Christmas break, the editor in charge of the internships called to ask if I were still interested because one of the applicants chosen had decided to take an internship in D.C. instead.
I'm sure you can guess what my answer was to him. I was a Community News reporter. After college, I returned to the same section and under the same editor for one year as a part-time reporter.
On the wall of my dorm during my third year, my roommate and I hung photos of several men, including actors Heath Ledger and Christian Bale. Four years later, in 2008, both actors would appear in the film "The Dark Knight," for which Ledger was nominated and won the Best Supporting Actor Academy Award. But Ledger was not able to walk across the stage and accept his award. He had died of an overdose in January 2008. At the time, I was a reporter at The Free Lance-Star and I remember hearing murmurs in the newsroom about his death.
Fifteen years later and three more newspapers, I find myself writing for AFP and sometimes you might see me rewrite a press release from the University of Mary Washington, if I think our readers will find it interesting. Of course, I find it interesting, but I know not everybody will necessarily be interested in what goes on at my college.
My time at college was not perfect. During my second year, my grandfather died. During the summer between second and third year, my family's dog died. In my third year at college, I had a biopsy to make sure I didn't have cancer. I later wrote a column for my college newspaper about the experience, which several of my friends shared with me they had also experienced. Why we had never talked about it, I don't know.
No, my four years as a full-time college student were not perfect. I was on scholarship and money was a challenge.
But it was wonderful. And I have no regrets. Just lots of memories and photographs and a love of musical theater. And journalism.