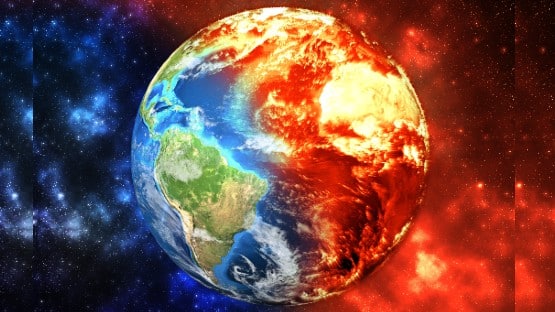 Our Climate Crisis
The public is increasingly paying more attention to our climate crisis. This is changing the dominant strategy of fighting climate change through global treaties where it's easy to dream up bold agreements but hard to make them stick. Public buy-in is enabling highly motivated governments and companies to invest in new technologies and business models. They can, in effect, run experiments and quickly learn what works in the drive toward a greener future.
This January was the warmest on record in seven states, including the entirety of New England. It was also the sixth warmest on record for the Lower 48 states and third warmest in Europe.  Five of the six warmest Januaries in the United States have occurred since 1990.
Rising tides are impacting coastal Virginia's rural communities, which do not have the public infrastructure that urban areas have. This pushes more of the cost burden onto individual households. FEMA is helping people raise their houses but they still need to contend with waterlogged septic systems and water wells that turn brackish. Sea level rise in the Hampton Roads region is up roughly eight inches since 1970.
We have entered a new chapter in the climate and ecological crisis that presents us with difficult decisions. Severe climate events draw focus and resources from tackling the underlying causes of global warming and ecological loss—creating a possible doom loop. Our challenge is to navigate through the shocks while staying focused on creating a more sustainable world.
The megadrought made worse by climate change forced Texas farmers to abandon 74 percent of their planted crops last year. This especially impacted the global supply and price of cotton, made even worse by the cotton crops destroyed by the massive flood in Pakistan. The extreme drought in the American Southwest could re-create the dust bowl conditions of the 1930s.
Last fall, the Alliance for World Scientists published their "Warning of a Climate Emergency 2022" along with a 35 minute documentary. This marks the 30th anniversary of the "World Scientists' Warning to Humanity," signed by more than 1700 scientists in 1992. Since then there has been a roughly 40% increase in global greenhouse gas emissions.
Politics and Policy
The gas industry is under fire. It's fighting back by creating a group dubbed Natural Allies for a Clean Energy Future and recruiting prominent Democratic politicians as spokespersons. Among them are former senator Mary Landrieu (D-La.) and former congressman Tim Ryan (D-Ohio). The argument they are making is that, while we need wind and solar power, gas is a needed abundant, cheap, and potentially "clean" energy source.
A new French law will require canopies of solar panels to be built atop all substantial lots in the country. Upon completion, this will generate as much electricity as 10 nuclear power plants and add as much as 8% to France's current electrical capacity.
Michigan will be home to the $3.5 billion Ford battery factory that Virginia governor Youngkin rejected over his concern that a Chinese company is a partner in the venture. The 2,500 jobs the factory will create now go to Michigan instead of Virginia.
A Republican bill sponsored by Del. Tony Wilt, R-Rockingham, seeking to end a Virginia law tying the state to emissions standards set by California, that will ban the sale of new gas-powered vehicles starting in 2035, died in the state Senate on a party line vote. Virginia Democrats have defended the law on the grounds that it puts Virginia at the front of the line to receive electric vehicles from automakers who are transitioning their fleets and it will improve air quality.
Energy
Texas is building utility scale solar faster than any other state and is expected to soon surpass California as the state with the most solar capacity. Utility-scale solar is surging ahead across the United States, which is forecast to add 29.1 gigawatts of new capacity in 2023.
Energy giant BP has reported record annual profits, which more than doubled to $27.7bn in 2022; other energy firms have seen similar rises. BP had previously promised to lower emissions 35-40% by the end of this decade. It has now cut that target to 20-30%, saying it needs to keep investing in oil and gas to meet current demands.
Methane from cow manure can be purified into a product being billed as "renewable natural gas" (RNG), which is virtually indistinguishable from fossil fuel natural gas. Major fossil fuel companies have inked deals with the dairy industry in California to build manure digesters. But is RNG carbon negative? It depends on if one calculates it as being derived from a waste product versus becoming an integral income stream in the very carbon intensive dairy industry.
The U.S. Department of Energy is providing funding for up to seven pilot projects that will test the efficacy and scalability of enhanced geothermal systems. Geothermal energy currently generates about 3.7 gigawatts of electricity in the U.S.; with the development of these enhanced systems it could provide 90 gigawatts of firm, flexible power to the U.S. grid by 2050.
Dominion Energy reports that its $9.8 billion wind farm 27 miles off the shores of Virginia Beach is on track and on budget. The installation, which could provide carbon-free power to more than 650,000 homes and businesses, is slated for completion by the end of 2026.
Last year European wind and solar production overtook natural gas in electricity generation.  That had seemed unimaginable one year ago on the cusp of Russia's invasion of Ukraine. Solar capacity alone has doubled since 2018 and is on track to triple in the next four years.
Climate Justice
Prioritizing a transition to electric cars has an equity problem because low-income Americans cannot afford them and are more likely to use public transit. Sita M. Syal, assistant professor of mechanical engineering at the University of Michigan, says that the EV transition should, therefore, be part of a broader shift to clean mobility that invests in public transit, walking, and biking, as well as systems like EV charging that support private car use.
Minnesota paid Enbridge, the company replacing the corroded Line 3 tar sands oil pipeline and doubling its capacity, $8.6 million to fund police and other agencies to respond to the acts of civil disobedience that the project would surely spark. Protestors, who then experienced mass arrests and detention, now contend that the financial arrangement created an unconstitutional police and prosecutor bias that violated their rights.
Climate Action
ACTION ALERT: Please submit your comments in support of keeping Virginia in the Regional Greenhouse Gas Initiative (RGGI) on the Virginia Townhall website before March 31. Gov. Youngkin is continuing his effort to use regulation to withdraw the state from RGGI through the Air Pollution Control Board. To this end, they recently put this proposed regulation out for public comment. Let him know that there is broad public support for RGGI.
Using an inexpensive inverter, it's now possible to power your home from your EV during a power outage. This is the leading edge of how EVs will be integrated into of our electrical power grid and become a key step in the transition to renewable energy. In the near future, with a bidirectional charger and a home integration system, your EV will be able to draw energy from the grid when there is ample supply and then resupply it during hours of peak demand.
Many in the younger generation are shunning getting a driver's license or buying a car. In 1997, 43% of 16-year-olds and 62% of 17-year-olds had driver's licenses. In 2020, those numbers had fallen to 25% and 45%.
The ability to commercially produce low carbon ethanol from rice and wheat straw, sugar cane, and corn stalks has been tantalizingly just beyond our grasp for decades. A big hurdle has been  collecting and distributing what is essentially a bulky waste product. Another has been processing this dirty, abrasive stuff after it reaches the plant. Now, after many fits and starts, we may be on the precipice of some significant breakthroughs that will make it viable.
Prince William County, the second largest school district in Virginia, is going solar. They will install solar power systems on the roofs of buildings at twelve school sites. The combined electric capacity will be 7.9 megawatts, which will save the district more than $16 million in energy costs over the next 25 years. Students will also be offered training and hands-on science experiments on energy.
The push is on to boost the production of sustainable aviation fuel. United Airlines recently launched a $100 million fund to support startups working to solve the supply problem. The goal is to increase production of sustainable aviation fuel from 1% today to 7.5% by 2030. Thirty-eight major airlines, including United, have committed to achieving net-zero emissions by 2050 or earlier.
News and experiences from the Harrisonburg  Pollinator Program will be included in the new "Parks and Pollinators: Taking Action and Advancing Sustainability" resource put out by the National Recreation and Park Association. The program is enhancing the environmental health of the city and doing its bit to help reverse our climate crisis. Find out more and explore opportunities to get involved here.
Compiled by Earl Zimmerman, Climate Action Alliance of the Valley