Snow-rain double-whammy caused massive '96 flooding
Story by Chris Graham
[email protected]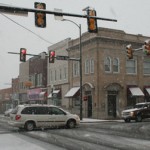 The first of the two 100-year floods of 1996 in Waynesboro was precipitated by a massive early-January snowstorm that dumped 30 inches-plus of snow followed by a heavy-rain event a week later that forced the South River out of its banks.
With snow still on the ground from the 30-inch-plus snow event of the past weekend and rain in the forecast for the end of the week, city officials are closely monitoring the weather situation, though things aren't looking like they're lining up for a repeat of January 1996 at this point in time.
"The temperatures aren't forecast to be as warm as they were in '96, and the rain isn't looking to be as significant as the rain event we saw then, either," said Gary Critzer, the director of emergency operations in Waynesboro, who is nonetheless keeping a close eye on the weather because of the recent history with that '96 double whammy.
The reason for the caution: The unusually wet autumn has the South River about 1.2 feet above its normal water flow.
The early forecast models have the Central Shenandoah Valley in line for up to inch of rain in association with the rain event that could hit the area later Thursday and into the day Friday.
Those early models have the event beginning as a winter-weather event with the precipitation changing over to rain into Friday.