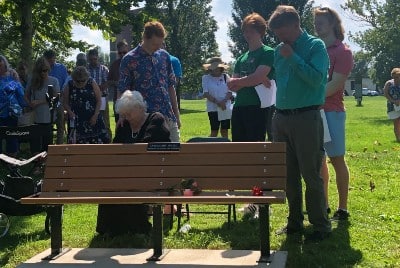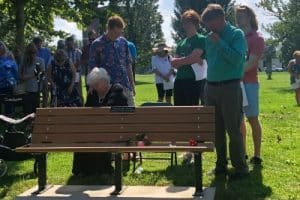 A large gathering of friends and community met at Constitution Park in Waynesboro Sunday afternoon.
A bench with a view of the river was dedicated in honor of Anne Seaton.
"The irony of dedicating a park bench to my mom since sitting still on a park bench by herself [she would never do]," said Phillip Seaton. She was always chatting with someone and on the go.
The Waynesboro Symphony Orchestra, The Wayne Theatre, the Republican Woman's Club, Phillip Seaton said that his mother "poured herself into her friends and community, and they supported us in return over the past year."
The quantity and quality of support from the community since Anne Seaton's death, Phillip said, is "a reflection of her heart."
"I truly do miss all the parties she threw," son Daniel Seaton said. He thanked the community for its support. "She was quite a wonderful woman, and I'm glad you all experienced her too."
Son Samuel Seaton also thanked the community for its support.
Mary Seay worked with Seaton on the Republican Woman's Club, which sponsored the bench. She thanked all who contributed to the bench, and thanked Waynesboro Parks & Recreation's Stephanie Seltzer for helping to make it a reality.
"I knew it would be a big deal, because when you talk about Anne Seaton, you know you have a lot of fans and friends," said Patsy Walker of the bench dedication. Walker and Anne Seaton founded the Republican Woman's Club in August 2018.
Walker said the club discussed ways to honor Seaton.
"You couldn't have made a better choice," Walker said.
After his sons spoke, Anne's husband, Scott, a member of the Augusta County Board of Supervisors, thanked the club for the bench.
"It's a bench of rest," Scott Seaton said. "I'm thankful for God for holding me up from the moment the sheriff told me that Anne was gone."
He thanked friends, family, his patients and the community for their support, and for reminding him of his late wife.
"Today, we're here to celebrate Anne's life," Scott Seaton said.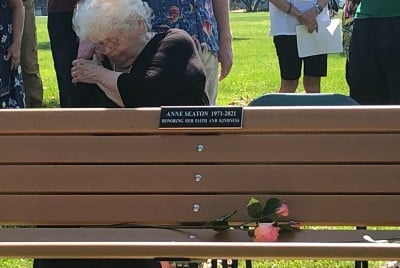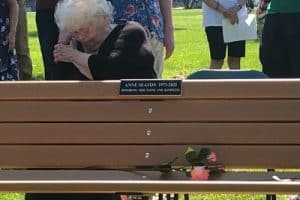 He said anyone continues to be welcome to call or stop him and tell him a story about his wife.
"Your stories continue to mend my broken heart," Scott Seaton said. On April 23, 2021, "Anne was taken from us so suddenly."
He said the last words he and his wife said to each other were 'I love you.'
"I'm grateful that God blessed me with such a great wife, with so many beautiful memories, with a wise mother to my four children, and with a community of friends, patients and family who wrapped their arms around my family."
Scott and Anne Seaton's first grandchild, Raymond Scott, was born more than seven months ago to their oldest child, daughter Joscelyn.
"I hope that some will remember that we all stand before a great river, that all of us are on a journey and will eventually have to cross that river. We must prepare ourselves for our rest on the other side," Scott Seaton said.
He said to tell loved ones you love them, and to reach out to anyone you know who has lost a loved one.
Congressman Ben Cline called Anne Seaton "a bright light." He said a bench by the river is a fitting tribute to Anne Seaton.
"That is life. Anne was life," Cline said.
He encouraged everyone to sit on the bench and take a moment to think about what Anne Seaton did for the community.
"I am one of the lucky people who knew Anne Seaton," said Charles Salembier, who worked with Seaton on the Waynesboro Symphony Orchestra.
Salembier said that Seaton was a Christian, a wife, a mother, an athlete, an employee and a devoted organization member.
"Looking back over my 80-plus years, I can say that all of those Annes were one of my very best friends," he said. "Anne Seaton was simply an amazing self."
The orchestra created the Young Musician's Fund in Seaton's honor, according to Salembier. The fund supports high school age musicians in the symphony's concerto competition, and weekly violin lessons for children at the Boys and Girls Club.
"This was something Anne felt very strongly about."
Salembier said that when he thinks of Seaton, he remembers the wife, the mother, the employee.
"I remember a Christian woman and I remember a friend," Salembier said.