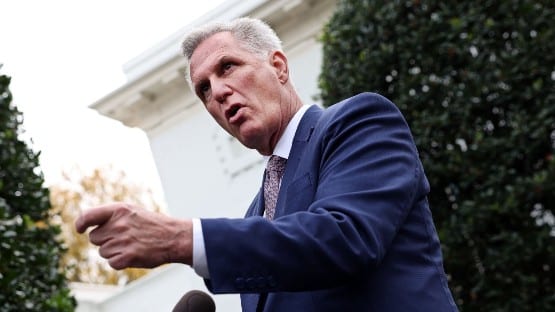 To hear Virginia Republican Bob Good tell it, Kevin McCarthy is 100 percent not going to be elected Speaker of the House on Tuesday.
Good, who represents the Fifth District, which stretches from Charlottesville and Albemarle all the way down the Route 29 corridor to the North Carolina border, is one of the five "Never Kevin" members of the House Republican caucus.
Five is an important number in terms of the House Speaker vote, because Republicans will have a 222-213 majority in the House, meaning McCarthy needs 218 votes to become the Speaker.
McCarthy has been bending over backwards trying to get to 218, but Good, in an appearance on Fox News on Monday, laid out why it's not going to happen.
"There is nothing that indicates to me that he is going to change his pattern since he has been in leadership, where he is part of the swamp cartel," Good said.
Ouch, babe. "Swamp cartel"?
"There is nothing about Kevin McCarthy that indicates he will bring the change that's needed to Washington or that's needed in Congress, or that he will bring the fight against Biden, Schumer's agenda, and represent the interest of the voters who sent us to Washington to bring us real change," Good said.
So, no, Good isn't voting for McCarthy, and if the other four "Never Kevins" – Andy Biggs of Arizona, Matt Gaetz of Florida, Matt Rosendale of Montana and Ralph Norman of South Carolina – hold the line, maybe even increase their base of support, the Speaker election will go to a second ballot.
And about that second ballot: there's a name.
Good wouldn't reveal it in the Fox interview, but he did confirm that there will be support on the second ballot "for a true candidate who can represent the conservative center of the conference, can motivate the base."
These next two years are sure going to be interesting.