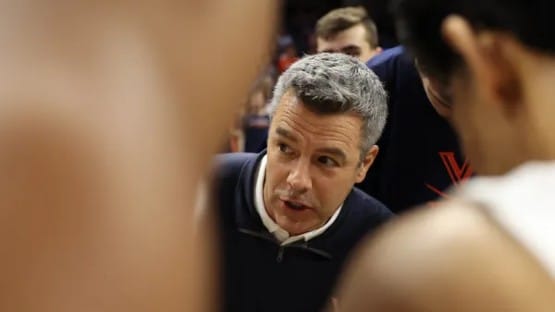 If you were watching closely, you would have seen Virginia running a lot of Tony Bennett's base mover/blocker offense in the 64-57 win over Clemson on Tuesday.
Welcome back, mover/blocker, which hadn't been seen much at all this season, with Bennett going more with high-screen and five-high sets that keep the middle of the floor open for guards Kihei Clark and Reece Beekman to try to get penetration, and triangle sets that move the screening action to the middle of the floor.
The offense had been struggling mightily for about a month, though, so, it was time for some tweaks.
"We just decided to go back to some of the things we've done, mixed in with the other stuff, and I thought that was a good lift," said Bennett, who acknowledged after the win that he'd wanted to do "some different things" because the guy he's been starting at the five spot, Ben Vander Plas, is "not fully healthy," with back issues that had been rumored to be limiting BVP the past few weeks.
Fans know that the insertion of Vander Plas into the starting lineup on Jan. 14 provided an immediate boost offensively. Actually going back to the second half of the 65-58 win over UNC on Jan. 10, Virginia, over a five-and-a-half game stretch, averaged 1.228 points per possession, a number that would rank second nationally over a full season, from a look at data from KenPom.com.
In that glorious stretch, Vander Plas averaged 10.2 points and 6.4 rebounds per game, shooting 45.3 percent from the floor and 37.0 percent from three.
The dropoff on the offensive end dates back to the 74-68 loss at Virginia Tech on Feb. 4, in which Vander Plas was scoreless on 0-of-4 shooting from the field, 0-of-3 from three, in 29 minutes.
The seven-game stretch from that one to the 71-63 loss at UNC on Feb. 25 saw UVA average 0.979 points per possession.
That would rank 321st nationally over a full season, per KenPom.com.
Vander Plas, over that February stretch, averaged 7.1 points and 4.6 rebounds per game on 39.6 percent shooting from the floor and 25.9 percent shooting from three.
It's not clear when Vander Plas suffered the back injury that we now know officially has been limiting him, but it has been clear for a while that Virginia hasn't been anywhere near the same on offense for a while now.
Bennett hadn't been using much mover/blocker, aka sides, this season even before he went with Vander Plas at the five spot, going more with the sets that gave his guards more room to operate.
The game plan for Clemson mixed those sets with mover/blocker, which required a crash course in the old offense on Sunday and Monday, between the Carolina game on Saturday and the Clemson game on Tuesday night.
"We worked really hard in the past couple of days in practice on sides," said Isaac McKneely, who had 12 points on 4-of-6 shooting in 16 minutes off the bench in Tuesday's win.
McKneely, a freshman, seemed to adapt well, and he thought the new sets got things moving for the offense.
"I thought it was really flowing, you know, got to a little bit of a slow start, but I thought, you know, once we got it rolling, our offense is clicking, and hopefully we can carry that into these next few games," McKneely said.
Bennett, too, liked what he saw from the sides sets, which may have to be back around to stay, given Vander Plas's balky back.
"We just saw some good, tough movement, hard screens, getting different kinds, a little bit of different kinds of looks, and had the, you know, the way I think that for this game, we needed to play," Bennett said.