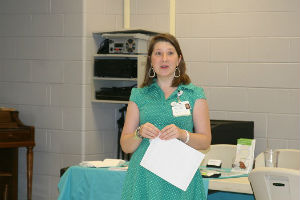 Whitney Meyerhoeffer, Volunteer Coordinator with Southern Care, spoke to 22 ERSC members and 3 volunteers on June 12 about the "Benefits of Hospice Volunteers." This was Ms. Meyerhoeffer's first visit to the ERSC.
Ms. Meyerhoeffer noted that hospice volunteers help to provide support to clients and their family members through companionship and can also be utilized to offer assistance in other ways, including, music therapy, assisting with household chores or being a part of bereavement groups.
Specific volunteer opportunities are available through Southern Care and requirements include an orientation, CPR training, background check, and a TB test. The time spent with each patient, she noted, is up to two hours per visit. Generally, most volunteers spent one hour with each clients, she said.
One ERSC member who serves as a hospice volunteer with RMH-Sentara alluded to the fact that she receives so much more than she gives by serving in this role. Several members met individually with Ms. Meyerhoeffer to discuss potential volunteer opportunities.
For more information on volunteering with Southern Care, call Ms. Meyerhoeffer at 801-0406. The office is located on Neff Avenue in Harrisonburg.
More online at www.EastRockinghamSeniorCenter.org.