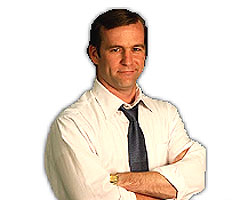 Sixth District Libertarian congressional candidate Stuart Bain is raising issue with a recent mailer put out by the campaign of incumbent Republican Bob Goodlatte that Bain thinks crossed an ethical line.
"Goodlatte's efforts to mislead voters are laughable. He is partly to blame for this economic disaster we're in, and now he claims to fight against it? Too bad his actions to sustain the Washington, D.C., establishment and status quo politics contradict his words. I'm running to give the voters of the Sixth District an opportunity to vote for a true conservative. Not Goodlatte's watered-down version," Bain said in a statement released Tuesday.
The mailer in question was a standard campaign letter to supporters. Bain questions the wording wherein Goodlatte asks supporters for campaign contributions to fight the Obama-Pelosi-Reid agenda with the implication that his two opponents in November, Bain and independent Jeff Vanke, would vote to sustain the efforts of Democrats on Capitol Hill.
Bain, as a Libertarian, is running to the right of Goodlatte on most issues, and Vanke has made a balanced federal budget a centerpiece of his campaign.
Bain also takes issue with the push for the cash-rich Goodlatte campaign to appeal to voters for more money.
"Any politician that sees himself needing in excess of $800,000 for the last 50 days or so of a campaign is questionable, especially given the circumstances of this race we are in," Bain said. "Bob Goodlatte has professed that he will likely win, and if that is the case, why would he be groveling for more money? Maybe he will use those funds to go into hiding so he can continue to dodge my requests for a debate."
 
More detail
Bain's campaign staff posted copies of Goodlatte's letter, and a Bain campaign staffer's personal response, on the campaign website at http://bainforcongress.org/.
 
 
Story by Chris Graham. Chris can be reached at [email protected].