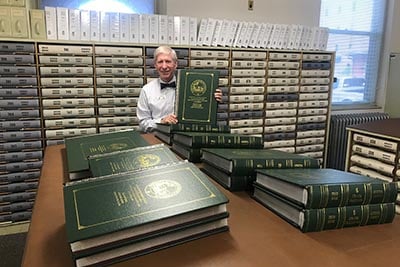 Augusta County Clerk of Circuit Court R. Steven Landes announced today that his office recently received eight important historic records back after extensive conservation work was completed on each record book.
The documents include deed books, order books, will books and register of deaths ranging from 1745 to 1839.
The grant funding was used to restore:
Deed Book 6 (1754-1755)
Order Book 1 (1745-1747)
Order Book 17 (1779-1782)
Register of Deaths (1871-1893)
Will Book 16 (1827-1829)
Will Book 19 (1833-1835)
Will Book 21 (1835-1837)
and Will Book 22 (1837-1839)
"The Augusta County Circuit Court Clerk's Office is happy to receive these eight important records back in our possession after their restoration was completed," Landes said. "These newly returned records not only preserve these important documents but will allow future generations of Augusta County citizens to see these tangible pieces of history."
The Circuit Court Records Preservation Grants Review Board approved the request at their December 16, 2021, meeting.
These works were returned to the clerk's office this week, and the conservation of these eight important public records was achieved because of the financial assistance of a 2022 Library of Virginia Circuit Court Records Preservation Program grant worth $48,682.
The grant by the Library of Virginia also allowed the Augusta County Circuit Court to obtain digital images of these records, ensuring future public access to the documents.
The Augusta County Circuit Court Clerk is the steward of historic records dating back to 1745.
The Virginia General Assembly created the special grants preservation program, which is managed by the Library of Virginia, and this program allows clerks to use state grant funding to perform preservation and conservation work to restore and protect Virginia's valuable history.