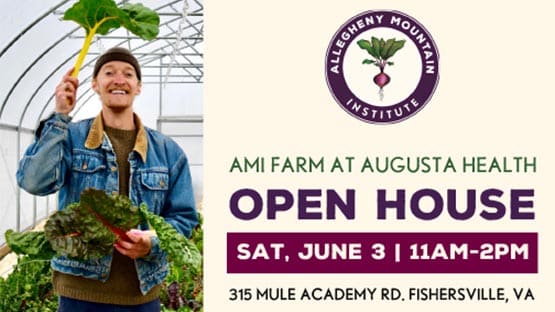 The Allegheny Mountain Institute Farm at Augusta Health is hosting an open house on Saturday, June 3, from 11 a.m. to 2 p.m. for community members and families to share in the season's harvest.
The Allegheny Mountain Institute farmers and educators will be providing farm tours at 11:30 a.m., 12:30 p.m., and 1:30 p.m. to share information about the Naturally Grown practices the farm uses and where the food goes to promote patient and community-wide health.
The event also includes:
A scavenger hunt for children
Learn how to pot seedlings for children (take home with them)
Vegetables for purchase
Free farm-fresh snacks to taste
The goal of the open house is for Allegheny Mountain Institute to share the joy of the season with the community and spread the word about how it supports schools, hospitals and organizations integrate farming, nutritious vegetables and related education into food systems and outreach initiatives.
The AMI Farm at Augusta Health is located at 315 Mule Academy Road in Fishersville.
The rain date for this event will be Saturday, June 10.
The AMI Farm at Augusta Health is a program of Allegheny Mountain Institute, an educational nonprofit organization with the mission to cultivate healthy communities through food and education.
For more information, please visit www.amifellows.org.