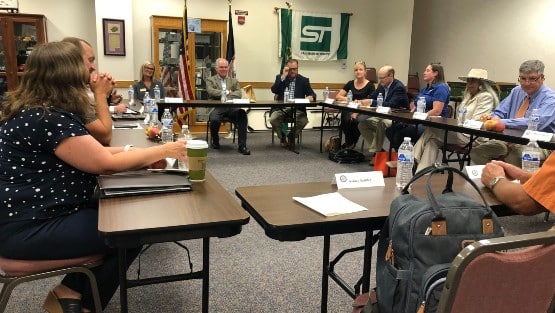 The second stop for Sen. Tim Kaine through Virginia Friday brought him to Verona where he hosted a Farm Bill roundtable at the Augusta County Government Center.
"We're doing three visits today and they're all about agriculture," Kaine, who grew up on farms run by both his maternal and paternal grandparents, said. The purpose of Friday's visits was to gather information and concerns from Virginia's farms about what should be in the 2023 Farm Bill. "Obviously, getting it right, means compromise," Kaine said of getting farmers' priorities in this year's bill. "It's not just about farmers, it's about the school lunch program, it's about SNAP benefits, it's about farmers markets, it's about education, it's about our research universities. So it is a big bill."
Kaine, a member of the Senate Armed Services Committee, served as governor of Virginia from 2006 to 2010. He said that he and Sen. Mark R. Warner of Virginia will be engaged to make sure "it's the best bill possible."
"Agriculture is the No. 1 industry in our county," said Augusta County Administrator Timothy Fitzgerald.
Ben Rowe said that international trade has changed since the last Farm Bill in 2018. Farmers want funding for the market access program and foreign market development program.
Joanna Shipp, a seventh-generation dairy farmer in Franklin County, said that 18 percent of milk produced in the United States is exported.
"We want more exports because we want the potential to grow," Shipp said.
Several members of the roundtable expressed concerns about China, specifically, China-owned companies buying agricultural land in the U.S. Kaine said a bill focused on China is coming.
John Boyd Jr. owns a farm in Mecklenburg County and said he has seen individuals at farm auctions who appear American but are representing Chinese companies and purchasing American farms.
"We can't compete with them," Boyd said. He and other American farmers cannot afford to go to China and buy farm land.
According to Cliff Williamson, when Chinese companies purchase farm land in the U.S. the land is taken out of production.
"We're losing opportunity more often than anything else. Getting ahead of that is very cumbersome," Williamson said.
Augusta County Board of Supervisors member Michael Shull raises beef cattle in the county. He said he and other beef producers in Virginia are concerned about the price of beef increasing and would like to see prices regulated somehow.
Cattle farmer Travis Kincaid said that good quality beef is raised in the Shenandoah Valley, but customers in grocery stores do not know that because products are not labeled by where the beef is raised.
Other concerns raised among roundtable members were funding for first-generation farmers, the fact that horses are not included in census of animals, and the possible pushing out of labor-intensive agriculture because of increased wages.
"We are looking at this," Kaine said of labor, which could be a security issue for the U.S. if food is not domestically grown.
Kaine's first stop on Friday was in Orange County where he visited a black-owned farm and a winery. After the roundtable in Verona, he visited Augusta Health in Fishersville and toured the Alleghany Mountain Institute Farm. The AMI Farm opened in 2018 and produced 30,500 pounds of food in 2022.