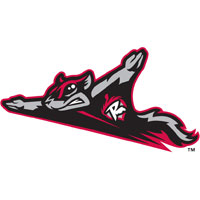 In the first meeting of the season between the two clubs, the Akron RubberDucks (51-39) defeated the Richmond Flying Squirrels (53-37), 3-1, at The Diamond on Monday night.  With the win, the RubberDucks cut the Squirrels' lead in the Western Division to two games.
The Squirrels opened the scoring against right-hander Cody Anderson in the second inning.  jarrett parker led off the inning with a double into right field.  Ricky Oropesa followed and pushed a single through the left-side of the infield.  Parker scored for a 1-0 lead.
Richmond right-hander Kyle Crick was dominant through the first two innings.  He retired the first six batters that he faced, including five strikeouts.  However, the RubberDucks got to him in the third.  Crick walked the lead-off man, Jake Lowery, to start trouble.  Justin Toole followed with a single, and an out later Crick walked Francisco Lindor to load the bases with one out.­  Tony Wolters then pulled a two-run double up the first-base line for a 2-1 Akron lead.
Crick (5-4) matched a season-high with 10 strikeouts, but lasted just five innings.  He was charged with two earned runs on three hits and three walks.  He endured his fourth loss of the season.
Anderson (3-9) also worked five innings, allowing just the lone run on five hits.  He walked two and struck out three.  Anderson won for the first time since May 2nd, a span of 11 starts.
The Akron bullpen worked a combined four scoreless innings to close out the Squirrels.  Lefty Giovanni Soto handled two innings, while right-handers Louis Head and J.C. Ramirez each worked an inning.  Ramirez worked the ninth to earn his first save of the season.
The RubberDucks capped the scoring with an unearned run against right-hander Hunter Strickland in the top of the ninth inning.
Game two of the four-game series is scheduled for 7:05 p.m. at The Diamond on Tuesday night.  Richmond RHP
Austin Fleet (5-1, 3.30) will make the start against Akron RHP Duke von Schamann (3-3, 3.95).  The Flying Squirrels Pregame Warmup begins at 6:35 p.m. on Sports Radio 910 and SportsRadio910.com.