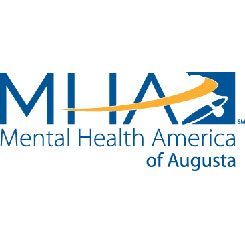 Mental Health America of Augusta presented awards to area agencies and individuals who have made outstanding contributions to those with mental illness or addictions at its annual dinner on Nov. 19.
The prestigious J. Lewis Gibbs Award, the highest award given by MHAA, was presented to Charles T. Collins, esq. for his dedicated service for 22 years promoting the cause of human rights through the Virginia Office of Human Rights as a Regional Advocate for seven Community Services Boards, Western State Hospital, Commonwealth Center for Children and Adolescents, five in-patient psychiatric units in community hospitals, and over 100 private licensed organizations.
The Mental Health America of Augusta, MHAA is an affiliate of Mental Health America, the nation's leading nonprofit dedicated to helping all people live mentally healthier lives.
Other awards presented were:
Distinguished Service Award: William J. Tuell, MSN, for long time dedicated service to Commonwealth Center for Children and Adolescents as executive director.
Clyde F. Hoy Jr. Consumer Advocate Award: Janet Morris, for overcoming mental health obstacles in her life through her involvement in mental health consumer activities on the local and state level and starting a Double Trouble Recovery Support Group.
Dr. & Mrs. C. Lennart Sandquist Prevention Award: Augusta Health Foundation/Mental Health Coalition, for bringing together mental health professionals, law enforcement, and advocates from mental health venues to look at the mental health needs of Staunton, Waynesboro, and Augusta County. At the end of this meeting, a Mental Health Coalition was deemed necessary to moving forth in a positive direction. A mental health stigma sub committee was formed and created the Reducing the Stigma of Mental Illness video,Commendation Award –James Spurgeon, MA, NCC for establishing and coordinating the Blue Ridge Crisis Intervention Training in this area.
Media Award: The New Dominion Magazine/AugustaFreePress.com for mental health coverage in the June/July issue of the print magazine and online.
Bell Award: Hal I. Meyers for his overwhelming support of MHA-A programs and services.
Volunteer Award: Judy Hatcher, for her volunteerism in this community serving on boards and the Mental Health Coalition, playing the piano at Augusta Health and nursing homes, and for telling her story of living with a mental illness.
Service Awards: Dorothy T. Vailes White, CRS 25 years.
The awards were presented at the association's 56th Annual Meeting and Silent Auction at the Holiday Inn Golf and Conference Center in Staunton. The guest speaker was Amie Trinca Recreation Therapist, Crossroads, Augusta Health. Her topic was working together to tear down the walls of prejudice and misunderstanding that surrounds mental illness in order to help build a stronger and more supportive community.
The MHAA also elected officers at the meeting. Elected were: President — Doug Cochran; Vice President of Ways and Means — Dorothy T. Vailes White, CRS; Vice President of Programs and Services — The Rev. Dr. Russell G. Waldrop; Secretary—Kathleen D. Anstine, LPC; Treasurer — John Brown; and Member at Large—Jane A. Desper. Newly elected board members are Molly E. Pallavicini and Lorie M. Smith.
Edited by Chris Graham. Chris can be reached at [email protected].