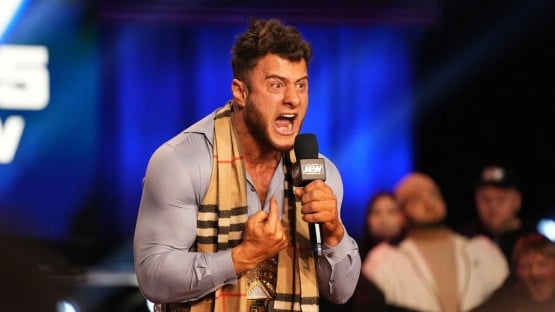 AEW world champion MJF is, at the age of 26, already one of the best on-the-mic performers in the wrestling business.
The one knock on Friedman is his in-ring work, which is good, generally, but no one's confusing him with Ric Flair, yet.
This is why Tony Khan has Friedman booked for a 60-minute ironman match with Bryan Danielson in the main event of Sunday's "Revolution" pay-per-view.
The best way to lay this one out would be to have the match go 60 minutes without a fall, sending the contest to an overtime that will be won by MJF – but really, however the champ ends up retaining, he will come out of this one with a shine as a wrestler that only going toe-for-toe for an hour with Danielson can give a guy.
Danielson, 41, is long since past needing a belt to give him legitimacy, and he has made it a point to do jobs to put over top young AEW talents since joining the company back in 2021.
His most memorable loss in AEW to date was his loss to then-AEW world champ "Hangman" Adam Page in 2022, a match that was the obvious highlight of Page's otherwise forgettable title reign.
MJF seems the type to being able to do a lot with a win over Danielson.
The question after the PPV Sunday night will be, who's next?
(CM Punk, maybe?)
The Other Match of the Night: Samoa Joe vs. Wardlow
The dumb move to book a four-week Darby Allin TNT title reign in the middle of the Samoa Joe-Wardlow feud is what it is.
The build to Joe-Wardlow has been a few months in the making, and this looks to be a showcase for Wardlow, who should benefit from being able to work with one of the best in-ring big men in the business from the past 20 years.
I'd expect Wardlow to go over here, with Powerhouse Hobbs waiting for his title shot next week on "Dynamite," and Joe then moving over to work Ring of Honor full-time.
Let's Hope This One Makes Sense: Jamie Hayter vs. Saraya vs. Ruby Soho
The WWE invasion of the AEW women's division, led by Saraya and Toni Storm, has suffered for lack of fan interest, but the inclusion of Soho in the AEW world title match on Sunday gives us reason to see something happen that might get us into what they have going on.
Soho seems poised for a heel turn here, though it would maybe be interesting to see her form her own stable, as she did in WWE, when she led the Riott Squad, to fight against both the WWE faction and the AEW originals, led by Britt Baker and Hayter, the world champ.
That idea seems like one that is too complicated for Tony Khan to keep up with, no matter where he puts the columns and rows.
Thus, I think what we get here on Sunday is Soho turning heel and helping Saraya get the win and the title.
Too Many People in the Ring: The Gunns defend the AEW tag titles in a four-way
We absolutely did not need a four-way tag match on this card, nor do we need four-way tag matches on any pro wrestling card.
This one, in particular, makes no sense, because two of the teams – Jeff Jarrett and Jay Lethal, and Orange Cassidy and Danhausen – are makeshift teams.
The focus should be on a Gunns-Ascension rematch, and if there was going to be another team added, FTR is sitting out there getting paid to do nothing right now, and FTR at least had something going with The Gunns before they went on hiatus.
I'll expect The Gunns to retain here, after a lot of highspots that go nowhere.
Hoping Hard for a Title Change in This One: The Elite vs. The House of Black
The Young Bucks and Kenny Omega need their run as a trios team to end Sunday night, if only because, we need to see the Bucks back in the tag division, based on how weak it must be, with two non-tag teams in the four-way title match on this card, and by gawd, why isn't Kenny Omega, on the heels of his early Match of the Year favorite matchup with Will Ospreay at Wrestle Kingdom, doing what he can do in Japan over here in the States?
The House of Black, meanwhile, has been floating around aimlessly since it was founded some time ago, and could use the dash of legitimacy that finally winning a title can give a faction.
I think the House of Black will go over here.
Time Takers: Moxley-Page, Jericho-Starks, Perry-Cage
I don't think much of either Jon Moxley, Adam Page, Jack Perry or Christian Cage, so I might hop in the hot tub for the first one of those that comes up, and, I dunno, maybe the second one is the perfect time to refresh the snack table at our watch party.
The only interest I have in Chris Jericho-Ricky Starks is to make sure that Jericho doesn't talk himself into a win that he doesn't need, and Starks does.