Sports
AEW 'Dynamite' preview: Khan seems set on splitting The Acclaimed, Billy Gunn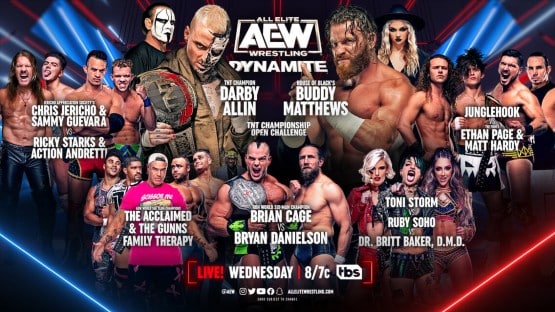 Tony Khan seems to be on the verge of taking the air out of another hot act in his ever-struggling AEW promotion.
The developing storyline between AEW tag champs The Acclaimed and The Gunn Club appears to be headed toward splitting the popular champs and their manager, Billy Gunn, for what reason, god only knows.
This is par for the course with Khan and AEW.
Remember that Khan spent months building up Wardlow for the inevitable big win over Maxwell Jacob Friedman at "Double or Nothing," then after the big guy became the hottest thing since Goldberg, Khan forgot him.
Actually, it's worse than that: after somebody reminded him that Wardlow was still around, Khan started to try to rekindle what should have been the Summer of Wardlow with what turned into a throwaway feud with Samoa Joe, before having him job, clean, to Joe, who then proceeded to cut off Wardlow's man bun for no apparent good reason, a week before he had Joe lose clean to 150-pound Darby Allin.
I'll gloss over the obvious low hanging fruit in the form of FTR and CM Punk, both currently off the air and out of people's minds, entirely because Khan's EVPs – Matt and Nick Jackson and Kenny Omega – wanted to neutralize backstage threats.
To that end, I wonder if the current TBS champ, Jade Cargill, is about to find herself booked into oblivion, after her recent podcast comments praising Punk as a great locker-room presence.
Big mistake, Jade, saying nice things about CM Punk.
Which makes me wonder: it possible that Wardlow was spotted at a Starbucks with Punk and FTR, and that's why he became a persona non grata?
Meanwhile, the only way we get to see Miro and Andrade these days is looking on the back side of milk cartons.
Cody Rhodes, you could say, saw this, and got while the gettin' was good.
Which gets us back to The Acclaimed – Max Caster and Anthony Bowens – who are as over as anybody in pro wrestling has been in recent years.
Caster's pre-match battle raps are a must-listen, and though no one can explain it, the "scissor me, Daddy Ass" thing is approaching a level with "Austin 3:16" and DX telling people to "suck it."
So naturally, Khan is teasing a breakup of Caster, Bowens and Billy Gunn, we have to assume because, Khan has more Vince McMahon in him than he'd want to admit.
McMahon, in his decades as the WWE booker, made it clear that the only thing that could get over under his watch was what he decided would get over, the fans' say in the matter be damned.
That's the hubris of the booker position, apparently.
You come to think that you're god, when really all you are is a guy with a pencil.
Quick thoughts
The match I'm looking forward to Wednesday is the Toni Storm-Ruby Soho-Britt Baker three-way, just because of how it fits in after last week's heel turn by Storm and Saraya.
Things seem to be headed in the direction of a WWE vs. AEW Originals feud, with Storm and Saraya heading up the WWE side, and Baker and the AEW champ, Jamie Hayter, leading the AEW Originals. Soho, for the moment, is a face aligned with Willow Nightingale, but Soho's history is as a WWE headliner.
I'm wondering if there could be another heel turn in this one.
---
Chris Jericho is determined to prove that he is more than willing to put young guys over. Nothing personal about this Action Andretti kid, but he's clearly not ready, if he ever will be, for the artificial push that he's been getting as Jericho tries to recast himself as altruist.
Andretti is 5'9" in high tops, 185 pounds after a large pizza with a winter coat on, with a moveset that screams average indy guy and nothing in the way of mic skills.
He's probably a nice kid, but it makes no sense to put effort into building him from nowhere when there are so many guys on the roster who wouldn't need much effort, and are getting nothing.
---
Bryan Danielson gets another match, this week with Brian Cage. It's obvious that Danielson gets the W again here, on his way to the "Revolution" main event with MJF, but the intrigue here is how he gets a good match out of Cage.
---
JungleHook gets another tag match, this week with Ethan Page and Matt Hardy. I know, from watching the YouTube shows regularly, that the booking is to get Page and Hardy into a feud with each other at some point down the line. Could they just fast forward to the feud already? Because the part about having to get there has long since passed the stage of being interesting.