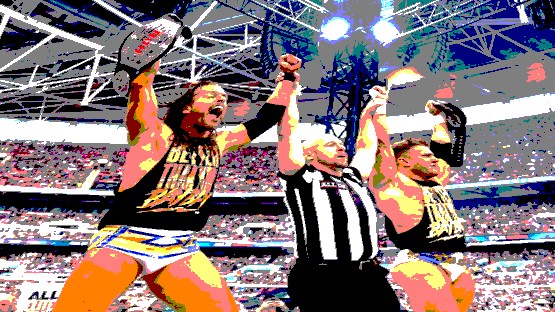 AEW is coming off its biggest show ever, the "All In" event in London that drew 80,000-plus live, and is likely to go down as the second biggest pay-per-view event in terms of buyrate in the company's four-year history.
The show lived up to the advanced billing, too. There were several classics – my early nod for match of the year for 2023 is the FTR-Young Bucks tag match, and the CM Punk-Samoa Joe and MJF-Adam Cole world title matches were top-notch.
I wanted, needed, to get that out of the way, because the direction for AEW coming back to the States was, positive.
For some reason, Tony Khan is insisting on having the "All Out" PPV on its normal schedule, Labor Day weekend, which means, no time to build.
It's obvious that what Khan has come up with is slapdash, which would be fine if it was a "Dynamite" or "Collision," but we're talking a $50 PPV show here.
Why anyone would give AEW $50 to watch this show is beyond me.
The card
Fifty bucks for a wrestling show, in a company that has two claimants to the world title, and neither world title will be defended on Sunday night at "All Out."
Maxwell Jacob Friedman, fresh off his win at "All In" over his tag partner, Adam Cole, will be teaming with Cole in a defense of the Ring of Honor tag titles that they won on the "All In" pre-show.
Punk, the other claimant to the world title, is, at this word, suspended, resulting from the backstage incident involving Jack Perry at "All In" that has gotten a headline or two.
The tag champs, FTR, on the heels of that scintillating match with the Bucks in London, will be teaming with the Bucks in an eight-man, so, no tag-title match, either.
At this writing, three days before the curtain gets jerked, the women's champ, Saraya, doesn't even have a match, which may be rectified between now and then, but, c'mon, Tony, you've got to do better than this.
The company's other world titles, the trios title and the ROH world singles title, also aren't on the card at this writing.
What we have right now is the ROH tag-title match, an International title match between Orange Cassidy and Jon Moxley, which I assume is the main event, and a TBS title match between Kris Statlander and Ruby Soho.
The other featured bout of note has former world champ Kenny Omega squaring up with Konosuke Takeshita, in what should be a good match, but honestly wouldn't be much more than maybe a "Dynamite" main event that may or may not shed viewers in the final quarter-hour.
This would maybe be a good "Grand Slam" show for the tennis stadium, but actually, no, because if the "Grand Slam" show doesn't have a single world-title match, then Khan has absolutely lost his mind.
He's not exactly going to lose his shirt this weekend, because "All In" is going to do good numbers, once we get the final numbers.
For the life of me, I can't see how Khan didn't see this coming.
I mean, this is going to be bad-d-d-d-d.