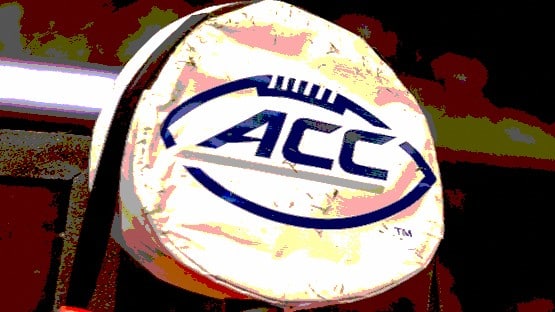 Week 1 of ACC football is in the books after Monday night's upset in Durham, where Duke took advantage of a sloppy Clemson team, winning 28-7.
Florida State dismantled LSU in the marquee matchup of the weekend, and in Charlotte, North Carolina's defense dominated South Carolina.
And that was just Week 1.
The ACC's top programs took on teams from the SEC and came away with victories in both contests.
FSU looks like a legitimate CFP team, while the Tar Heels' defense looked much better from last year, totaling nine sacks against South Carolina.
Things don't look so good down in Death Valley. Clemson was sloppy from the start against Duke and may have seen their chance for a CFP slot slip away on Labor Day.
Here's the ACC Week 2 Power Rankings.
FSU (1-0, 0-0) The Seminoles surged in the second half to rout LSU. Quarterback Jordan Travis was fantastic in the second half. The FSU defense shut down the Tigers.
UNC (1-0, 0-0) The much-maligned Tar Heel defense got nine sacks against South Carolina. QB Drake Maye looked sharp, even without two of his top receivers.
Duke (1-0, 1-0) Duke No. 3? An overreaction? The Blue Devils had perhaps their biggest win in school history over Clemson on Monday night. The Duke defense created turnovers all game against the Tiger offense.
Miami (1-0, 0-0) Although the Hurricanes opening win was against Miami (Ohio), Miami (Fla.) struggled mightily against subpar competition. Up next for Miami is a talented Texas A&M team. A win against the Aggies would certainly qualify the Hurricanes as an ACC contender.
Louisville (1-0, 1-0) The Cardinals' offense started flying in the second half to beat Georgia Tech. Wide receiver Jamari Thrash looked dynamic and should have a major impact on the Louisville offense.
NC State (1-0, 0-0) Despite an opening week win over UConn, the Wolfpack looked shaky on both sides of the ball. With a new QB and offensive coordinator, it may be a while before the Wolfpack offense growls. NC State has a huge test Saturday, hosting Notre Dame.
Clemson (0-1, 0-1) A complete disaster for Clemson Monday night in Durham. A two-touchdown favorite against Duke and the preseason pick to win the ACC, the Tigers looked inept the entire game.
Pittsburgh (1-0, 0-0) Hard to gauge Pittsburgh after an opening-game win against Wofford. A stiffer test is on deck as the Panthers host Cincinnati in the River City rivalry Saturday.
Wake Forest (1-0, 0-0) Again, hard to evaluate after a win over Elon. The Demon Deacons host SEC foe Vanderbilt next.
Georgia Tech (0-1,0-1) Tech played a solid Louisville team tough for three quarters, eventually falling 39-34. Plenty to build upon, and the Yellow Jackets should get win #1 on Saturday, hosting South Carolina State.
Syracuse (1-0, 0-0) Winning over Colgate doesn'tmean much, but the Orange kept turnovers to a minimum. Syracuse should move to 2-0, facing Western Michigan next.
Virginia Tech (1-0, 0-0) New QB Grant Wells was solid in the Hokie win over ODU. Still VPI has plenty to work on, and a win against Purdue would be huge.
Virginia (0-1, 0-0) Hard to evaluate the potential for the Cavaliers after getting drubbed by a strong Tennessee team. The defense held up, until fatigue finally caught up.
Boston College (0-1, 0-0) BC coach Jeff Hafley came into this season on the hot seat, and it got even hotter after a home loss to Northern Illinois.