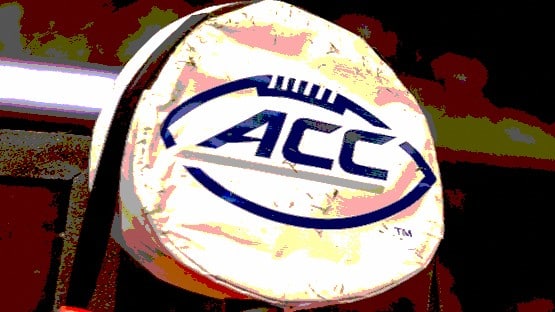 ESPN announced on Saturday, Sept. 23, that "College GameDay" will broadcast live for the first time from Duke for Week 5.
The nationally ranked and undefeated Duke Blue Devils (4-0) will host Notre Dame (4-1) on Saturday at 7:30 p.m. on ABC's Saturday Night Football.
"GameDay" was broadcast from an ACC location twice during the 2022 season, emanating from Pittsburgh on Sept. 1, 2022, for the season opener between Pitt and West Virginia and at Clemson on Oct. 1, 2022, prior to the Clemson and NC State matchup.
The show kicked off Week 1 of the 2023 season at Romare Bearden Park in Uptown Charlotte on Sept. 2, where North Carolina defeated South Carolina in the Duke's Mayo Classic inside Bank of America Stadium.
Schedule
Friday, Sept. 29
Louisville at NC State, 7 p.m., ESPN
Series: Louisville leads, 8-4; Last meeting: Louisville, 25-10 (2022)
ESPN: Anish Shroff (play-by-play), Andre Ware (analyst), Paul Carcaterra (sideline)
Line: Louisville -3
Saturday, Sept. 30
Clemson at Syracuse, noon, ABC
Series: Clemson leads series, 9-2; Last meeting: Clemson, 27-21 (2022)
ABC: Dave Pasch (play-by-play), Dusty Dvoracek (analyst), Tom Luginbill (sideline)
Line: Clemson -7
Virginia at Boston College, 2 p.m., The CW
Series: Boston College leads series, 6-1; Last meeting: Virginia, 43-32 (2020)
The CW Network: Tom Werme (play-by-play), James Bates (analyst), Tabitha Turner (sideline)
Line: Boston College -3.5
Bowling Green at Georgia Tech, 3:30 p.m., ACCN
Series: Georgia Tech leads series, 1-0; Last meeting: Georgia Tech, 63-17 (2018)
ACCN: Chris Cotter (play-by-play), Mark Herzlich (analyst), Marilyn Payne (sideline)
Line: Georgia Tech -22
No. 11 Notre Dame at No. 17 Duke, 7:30 p.m., ABC
Series: Notre Dame leads series, 5-2; Last meeting: Notre Dame, 27-13 (2020)
ABC: Rece Davis (play-by-play), Kirk Herbstreit (analyst), Holly Rowe (sideline)
Line: Notre Dame -5.5
Pitt at Virginia Tech, 8 p.m., ACCN
Series: Series tied, 11-11; Last meeting: Pitt, 45-29 (2022)
CCN: Mike Monaco (play-by-play), Tim Hasselbeck (analyst), Taylor Tannebaum (sideline)
Line: Pitt -2.5
Open: Florida State, Miami, North Carolina, Wake Forest