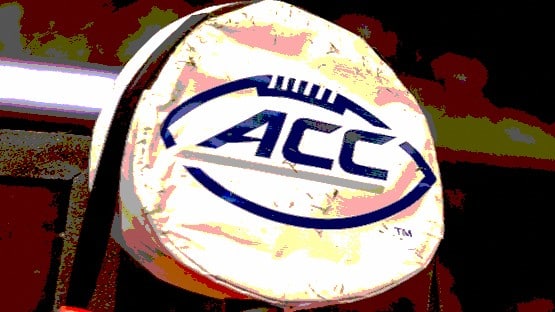 For the third consecutive week, the ACC had four teams ranked in the Associated Press Top 25 poll (Sept. 17). Florida State came in at No. 4, while North Carolina (No. 17), Duke (No. 18) and Miami (No. 20) all moved up in the poll. Clemson came in the next highest with 76 votes, putting them just outside of the top 25, while Syracuse and Louisville also received at least one vote this week.
The ACC had five teams place in the USA Today Sports AFCA Coaches Poll (Sept. 17), led by Florida State remaining at No. 3 overall. North Carolina moved up one spot to No. 17, while both Duke (No. 18) and Miami (No. 21) climbed two spots. Clemson was the fifth ACC school ranked in the coaches top 25 poll, coming in at No. 23. Syracuse, Wake Forest and Louisville also received votes.
The ACC is off to a great start to the 2023 season, going 26-10 (.722) overall in non-conference play over the first three weeks of the season.
Eight of the ACC's 26 non-conference wins have come against the Big Ten and the SEC, with the ACC recording four wins over each of the two conferences. The rest of the nation is 9-32 overall versus the two Power 5 conferences.
Schedule
Friday, Sept. 22
NC State at Virginia 7:30 p.m., ESPN
Series: NC State leads, 36-22-1; Last meeting: NC State, 38-21 (2020)
ESPN: Anish Shroff (play-by-play), Andre Ware (analyst), Paul Carcaterra (sideline)
Line: NC State -9.5
Saturday, Sept. 23
No. 4 Florida State at Clemson noon, ABC
Series: Florida State leads series, 20-15; Last meeting: Clemson, 34-28 (2022)
ABC: Sean McDonough (play-by-play), Greg McElroy (analyst), Molly McGrath (sideline)
Line: FSU -2.5
Virginia Tech at Marshall noon, ESPN2
Series: Virginia Tech leads series, 11-2; Last meeting: Virginia Tech, 41-20 (2018)
ESPN2: Roy Philpott (play-by-play), Roddy Jones (analyst), Taylor McGregor (sideline)
Line: Marshall -5
Army at Syracuse noon, ACCN
Series: Syracuse leads series, 11-10; Last meeting: Syracuse, 42-17 (1996)
ACCN: Chris Cotter (play-by-play), Mark Herzlich (analyst), Sherree Burruss (sideline)
Line: Syracuse -13.5
No. 20 Miami at Temple 3:30 p.m., ESPN2
Series: Miami leads series, 13-1; Last meeting: Miami, 34-3 (2005)
ESPN2: Beth Mowins (play-by-play), Kirk Morrison (analyst), Stormy Buonantony (sideline)
Line: Miami -23.5
No. 18 Duke at UConn 3:30 p.m., CBSSN
Series: UConn leads series, 2-0; Last meeting: UConn, 45-14 (2007)
CBSSN: Chris Lewis (play-by-play), Robert Turbin (analyst), Keiana Martin (sideline)
Line: Duke -21.5
Boston College at Louisville 3:30 p.m., ACCN
Series: Louisville leads series, 8-7; Last meeting: Boston College, 34-33 (2022)
ACCN: Jorge Sedano (play-by-play), Orlando Franklin (analyst), Marilyn Payne (sideline)
Line: Louisville -13.5
Georgia Tech at Wake Forest 6:30 p.m., The CW
Series: Georgia Tech leads, 23-8; Last meeting: Georgia Tech, 38-24 (2017)
The CW Network: Tom Werme (play-by-play), James Bates (analyst), Treavor Scales (sideline)
Line: Wake Forest -4
No. 17 North Carolina at Pitt 8 p.m., ACCN
Series: North Carolina leads, 11-5; Last meeting: North Carolina, 42-24 (2022)
ACCN: Wes Durham (play-by-play), Tim Hasselbeck (analyst), Taylor Tannebaum (sideline)
Line: North Carolina -7.5