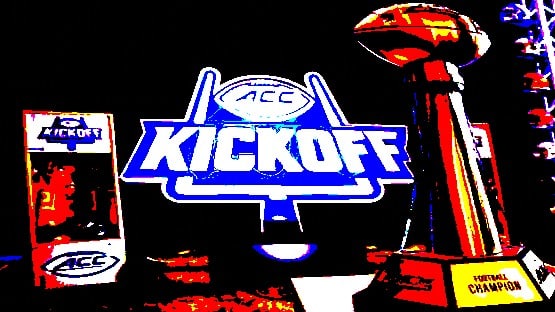 The 71st season of ACC Football opens with 12 games over a five-day span throughout the Labor Day Weekend, Aug. 31-Sept. 4.
No other league plays across all five days in Week 1. This is the fifth time in the last seven years the ACC has played over five consecutive days in Week 1.
ESPN College GameDay will broadcast live from Charlotte on Saturday in advance of the Duke's Mayo Classic matchup between North Carolina and South Carolina. Hosted by Rece Davis and joined by analysts Lee Corso, Kirk Herbstreit, Desmond Howard and Pat McAfee, the show will originate from Romare Bearden Park in Uptown Charlotte, just down the street from Bank of America Stadium, where the Tar Heels face off with the Gamecocks at 7:30 p.m., in a matchup on ABC's Saturday Night Football.
Schedule
Thursday, Aug. 31
Elon at Wake Forest, 7 p.m., ACCN
Series: Wake Forest leads series, 11-0-1; Last meeting: Wake Forest, 49-7 (2019)
ACCN: Drew Carter (play-by-play), Dustin Fox (analyst)
Line: n/a
NC State at UConn, 7:30 p.m., CBSSN
Series: NC State leads series, 3-0; Last meeting: NC State, 41-10 (2022)
CBSSN: Ed Cohen (play-by-play), Christian Fauria (analyst), Keiana Martin (sideline)
Line: NC State -14
Friday, Sept. 1
Miami (Ohio) at Miami 7 p.m., ACCN
Series: Miami leads series, 3-0; Last meeting: Miami, 54-3 (1987)
ACCN: Jay Alter (play-by-play), Rene Ingoglia (analyst)
Line: Miami -16.5
Louisville at Georgia Tech – Aflac Kickoff Game, 7:30 p.m., ESPN
Series: Georgia Tech leads series, 2-0; Last meeting: GT, 46-27 (2020)
ESPN: Anish Shroff, Andre Ware (analyst), Paul Carcaterra (sideline)
Line: Louisville -9.5
Saturday, Sept. 2
Northern Illinois at Boston College, Noon, ACCN
Series: BC leads series, 3-0; Last meeting: Boston College, 23-20 (2017)
ACCN: Chris Cotter (play-by-play), Mark Herzlich (analyst), Ashley Stroehlein (sideline)
Line: Boston College -8.5
Virginia vs. No. 12 Tennessee (in Nashville), Noon
Series: Tennessee leads, 3-1; Last meeting: Tennessee, 22-20 (1991)
ABC: Joe Tessitore (play-by-play), Jesse Palmer (analyst), Katie George (sideline)
Line: Tennessee -28
Wofford at Pitt, 3:30 p.m., ACCN
Series: First meeting
ACCN: Mike Monaco (play-by-play), Forrest Conoly (analyst), Alex Chappell (sideline)
Line: n/a
Colgate at Syracuse, 4 p.m., ACCNX
Series: Tied, 31-31-5; Last meeting: Syracuse, 33-7 (2016)
ACCNX: Jorge Sedano (play-by-play), Orlando Franklin (analyst), Marilyn Payne (sideline)
Line: n/a
No. 21 North Carolina vs. South Carolina (in Charlotte), 7:30 p.m., ABC
Series: North Carolina leads series, 35-20-4; Last meeting: South Carolina, 38-21 (2021)
ABC: Sean McDonough (play-by-play), Greg McElroy (analyst), Molly McGrath (sideline)
Line: North Carolina -1.5
Old Dominion at Virginia Tech, 8 p.m., ACCN
Series: Tied, 2-2; Last meeting: Old Dominion 20-17 (2022)
ACCN: Wes Durham (play-by-play), Tim Hasselbeck (analyst), Taylor Tannenbaum (sideline)
Line: Virginia Tech -16
Sunday, Sept. 3
No. 5 LSU vs No. 8 Florida State (in Orlando, Fla.), 7:30 p.m., ABC
Series: FSU leads series, 8-2; Last meeting: Florida State, 24-23 (2022)
ABC: Chris Fowler (play-by-play), Kirk Herbstreit (analyst), Holly Rowe (sideline)
Line: FSU -1
Monday, Sept. 4
No. 9 Clemson at Duke 8 p.m., ESPN
Series: Clemson leads series, 37-16-1; Last meeting: Clemson, 35-6 (2018)
ESPN: Dave Pasch (play-by-play), Dusty Dvoracek (analyst), Tom Luginbill (sideline)
Line: Clemson -11
2023 ACC Preseason Poll
1. Clemson (103), 2370
2. Florida State (67), 2304
3. North Carolina (5), 1981
4. NC State (1), 1662
5. Miami, 1553
T6. Duke, 1511
T6. Pitt, 1511
8. Louisville, 1344
9. Wake Forest, 1181
10. Syracuse, 826
11. Virginia Tech, 678
12. Georgia Tech, 633
13. Boston College, 561
14. Virginia, 365
First-place votes in parentheses