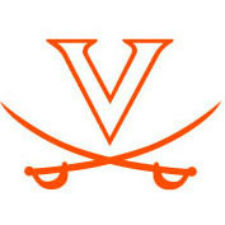 The fourth-ranked Virginia men's tennis team advanced to the NCAA Round of 16 for the 11th consecutive year with a 4-1 victory over No. 23 Penn State in a second round match Sunday at the Snyder Tennis Center. The Cavaliers (25-2) remained unbeaten all-time in home NCAA Tournament matches, while Penn State ended the year with a 22-6 record.
Virginia will play either Notre Dame or Ole Miss in the round of 16 on Friday at the Dan Magill Tennis Center in Athens, Ga. Match time is slated for noon.
"It is always a special accomplishment to advance to the Round of 16 of the NCAA Tournament, and we are honored to have the opportunity to go back, " said head coach Brian Boland. "Congrats to Penn State on a great season. I thought they came out and played at a high level today. To be challenged like this is only going to help us as we moved forward in the tournament. We thought this was an incredibly productive weekend for our team and we look forward getting to Athens and preparing for Friday's match."
The Nittany Lions took an early lead in the match by winning the doubles point. Mitchell Frank (Annandale, Va.) and Justin Shane (Falls Church, Va.) gave Virginia the early edge with an 8-1 win at No. 3 over Matt Barry and Roman Trkulja. Penn State drew even as Russell Bader and Leonard Stakhovsky topped Luca Corinteli (Alexandria, Va.) and Mac Styslinger (Birmingham, Ala.) 8-5 at the No. 1 position. With the opening point on the line, the Penn State duo of Michael Reilly and Chris Young handed Alex Domijan (Wesley Chapel, Fla.) and Harrison Richmond (Pawleys Island, S.C.) their first loss of the season, 8-5, at No. 2 to give the Nittany Lions the lead.
Virginia rallied in singles, taking five of the six first sets to grab momentum in the match. Justin Shane cruised to a 6-1, 6-0 victory over Trkulja at No. 5 to tie the match. Domijan gave the Cavaliers the lead with his 6-1, 6-2 victory at No. 1 over Stakhovsky. Frank made the score 3-1 with a 6-0, 6-2 win at No. 2 over Bader. Ryan Shane (Falls Church, Va.) sealed the victory for Virginia with a 6-4, 6-2 win over Alex Fennell at No. 3 singles.
"I thought our response to losing the doubles point was very good," said Boland. "We have been in that situation before, so we knew what we had to do. In all the years we have made a run to the semifinals or finals, there hasn't been a time where we didn't at some point have to overcome losing a doubles point. Early in singles, I looked up and saw we were up on all six courts, and that was a sign that we came out with the right mindset in singles."
The Cavaliers' streak of 11 consecutive NCAA Round of 16 appearances is the third longest active streak in the nation. Virginia has advanced to at least the quarterfinals in each of the past nine tournaments. In 11 years of hosting NCAA Tournament regional play, the Cavaliers are now 22-0 in postseason matches at the Snyder Tennis Center and the Boar's Head Sports Club.

#4 VIRGINIA 4, #23 PENN STATE 1
Doubles:
1. #26 Bader/Stakhovsky (PSU) def. #53 Corinteli/Styslinger (UVa) 8-5
2. Reilly/Young (PSU) def. #61 Domijan/Richmond (UVa) 8-5
3. Frank/J.Shane (UVa) def. Barry/Trkulja (PSU) 8-1
Order of Finish: 3,1,2
Singles:
1. #6 Alex Domijan (UVa) def. #37 Leonard Stakhovsky (PSU) 6-1, 6-2
2. #4 Mitchell Frank (UVa) def. Russell Bader (PSU) 6-0, 6-2
3. #46 Ryan Shane (UVa) def. Alex Fennell (PSU) 6-4, 6-2
4. Matt Barry (PSU) led #113 Thai-Son Kwiatkowski (UVa) 6-4, 4-2 DNF
5. Justin Shane (UVa) def. Roman Trkulja (PSU) 6-1, 6-0
6. J.C. Aragone (UVa) led Nika Dolidze (PSU) 6-2, 5-3 DNF
Order of Finish: 5,1,2,3