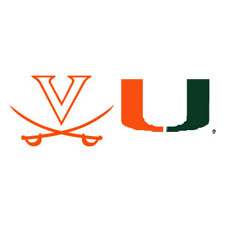 The No. 3 UVa. baseball team heads to No. 25 Miami Saturday through Monday (March 22-24) for a three-game ACC series. The teams will play three 7 p.m. games at Alex Rodriguez Park in Coral Gables, Fla.
Broadcast Information
Webcasts for Saturday and Sunday will be available through ESPN3. The Monday contest will air on ESPNU and also will be available via the WatchESPN app.
Live audio broadcasts will be available for all three games through a Cavaliers Live subscription on VirginiaSports.com. wina 1070-AM and WINA.com will carry the radio broadcast of all three games; wina will carry the Sunday game in its entirety as long as there is not a conflict with UVa Men's Basketball.
A link to live statistics for all three games will be located on VirginiaSports.com. The audio and live stats also can be accessed through the Virginia Sports app, which is available through iTunes.
Virginia in the Latest National Rankings
Baseball America, NCBWA, Perfect Game – 3
Collegiate Baseball – 4
USA Today Coaches – 5
Virginia Cavaliers (17-3, 5-1 ACC)
Probable Starting Rotation
Sat. – So. LHP Nathan Kirby (5-0, 0.59 ERA)
Sun. – So. RHP Josh Sborz (3-1, 2.55 ERA)
Mon. – So. LHP Brandon Waddell (3-1, 3.49 ERA)
Miami Hurricanes (12-10, 4-2 ACC)
Probable Starting Rotation
Sat. – Jr. LHP Chris Diaz (4-0, 2.90 ERA)
Sun. – So. LHP Andrew Suarez (2-1, 3.55 ERA)
Mon. – Jr. LHP Bryan Radziewski (1-2, 3.67 ERA)
Virginia-Miami Series
The Virginia-Miami series is tied 20-20 after UVa took two of three games last year in Charlottesville. Virginia has claimed 11 of the last 13 meetings, including its first-ever series sweep of the Hurricanes in 2012 in Coral Gables.
The Cavaliers have won their last four series with Miami. UVa is 9-10 all-time against the Canes in Coral Gables but has won five straight games as well as its last two series there.
Pitching and Defense Win Games
Virginia's strong start has been fueled by strong pitching and defense. The Cavaliers lead the nation in fielding at .987 after committing just 10 errors in the first 20 contests.
UVa ranks eighth nationally in ERA (2.02) and WHIP (0.99) and allows the fifth fewest hits nine innings (6.19).
Offense Starting to Crank Up
After a slow start, Virginia's offense has showed signs of starting to heat up. Virginia is batting .341 over its last six games, recording at least eight hits in each game. UVa batted .270 over its first 14 games, recording fewer than eight hits in half of those contests.
Virginia Among ACC Leaders
Virginia leads the ACC with a 2.02 team ERA and .988 fielding percentage. The Cavaliers are fourth in the conference with a .293 team batting average.
Noting Miami
Miami holds a 12-10 record, including a 4-2 ACC mark after dropping two of three games last weekend at Georgia Tech. The Hurricanes are batting .251 as a team (12th in ACC), led by sophomore David Thompson at .328 and rookie Willie Abreu at .307. um is tied for the ACC lead with 13 home runs this year.
The Hurricanes' pitching staff has a 3.96 ERA this season, ranking 11th in the conference. um has a .959 fielding percentage, which is 13th in the league.
Up Next
Virginia returns home Wednesday for a 5 p.m. contest with Longwood. The Cavaliers play host to Virginia Tech next weekend (March 28-30) in a three-game conference series.